Sharp Aquos Crystal vs Galaxy S5 vs One (M8): specs comparison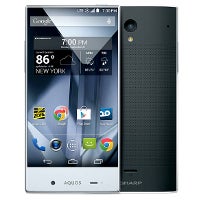 Many of us, tech-savvy individuals, have wanted to see some of Sharp's striking, almost bezel-less smartphones finally arrive in the US, but those "headless" phones had, until now, been exclusively available in Japan. Well, you remember that Japanese carrier Softbank recently bought the majority of Sprint, right? We suspect this may have something to do with today's announcement - Sprint has officially become the first US carrier to offer a Sharp Aquos phone, and boy is that new Aquos Crystal a looker! With almost zero bezel around the left, right, and top sides, this phone manages to pack a sizable 5" screen into a relatively compact body size. Sweet, eh? However, we should point out that this is a mid-range offering that doesn't quite aim to compete with the big guys on the market. Still, where there's smoke there's fire, so we can imagine that if this new fella gets a warm welcome from US customers, more Sharp phones will follow it through this newly-established warp gate connecting Japan and the US.
This post just got a little too geeky? Agreed. Now, let's turn our attention back to the Sharp Aquos Crystal and our specs comparison. As we said, the Crystal is more of a mid-range affair, but we're still going to pit it against some of the most popular Androids out there, just to get an idea of how it stacks up against those popular models.
Display
Technology
Super AMOLED
LCD
Features
Scratch-resistant glass, Ambient light sensor, Proximity sensor
Ambient light sensor, Proximity sensor
Ambient light sensor
Hardware
Qualcomm Snapdragon 801 MSM8974-AC
Qualcomm Snapdragon 801
Qualcomm Snapdragon 400 8926
Quad-core, 2500 MHz, Krait 400, 32-bit, 28 nm
Internal storage
32GB
32GB
8GB
OS
Android (6.0 Marshmallow, 5.1 Lollipop, 5.0 Lollipop, 4.4.4, 4.4.2), Samsung TouchWiz UI
Windows Phone, 8.1
Android (4.4.2)
Battery
21.00 hours
the

average

is 15 h (927 min)
13.00 hours
the

average

is 15 h (927 min)
16.2 days (390 hours)
the

average

is 20 days (472 h)
21.00 hours
the

average

is 19 h (1110 min)
22.00 hours
the

average

is 19 h (1110 min)
22.0 days (528 hours)
the

average

is 0 days (0 h)
Camera
Rear
Single camera
Dual camera
Single camera
Main camera
4 MP (Autofocus, BSI sensor)
Specifications
Aperture size: F2.2; Focal length: 31 mm; Sensor size: 1/2.6"; Pixel size: 1.12 μm
Aperture size: F2.0; Focal length: 28 mm; Sensor size: 1/3"; Pixel size: 2 μm
Second camera
4 MP (Depth information)
Video recording
3840x2160 (4K UHD) (30 fps), 1920x1080 (Full HD) (60 fps)
1920x1080 (Full HD)
1920x1080 (Full HD) (30 fps)
Recording format
MPEG4, H.264
Features
HDR, Continuous autofocus, EIS, Video calling, Video sharing
HDR
Front
2.1 MP
5 MP
1.2 MP
Video capture
1920x1080 (Full HD)
1920x1080 (Full HD)
1280x720 (HD) (30 fps)
Design
Dimensions
5.59 x 2.85 x 0.32 inches (142 x 72.5 x 8.1 mm)
5.76 x 2.78 x 0.37 inches (146.36 x 70.6 x 9.35 mm)
5.16 x 2.64 x 0.39 inches (131 x 67 x 10 mm)
Weight
5.11 oz (145.0 g)
the

average

is 6.5 oz (185 g)
5.64 oz (160.0 g)
the

average

is 6.5 oz (185 g)
4.97 oz (141.0 g)
the

average

is 6.5 oz (185 g)
Materials
Back: Plastic
Back: Metal
Resistance
Water, Dust; IP67
Features
Touch sensitive control keys, Interchangeable covers, Notification light
Notification light