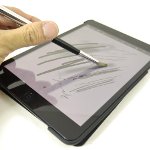 Transitioning from a painting canvas to a touchscreen of some kind can be tough for any delicate painter/drawer, but there might be some ease with the aid of a combination stylus/brush. That's where the
Sensu
brush comes into mind, as it wields both a standard stylus stub on one end – while the other features a
patent-pending synthetic hair brush
that's infused with copper so it can interact with a capacitive touchscreen. Compatible to work on any device bearing a touchscreen, the Sensu aims to giving users precision and control.
Naturally, there's nothing too fancy with the stylus stub of the Sensu, since it works like any other stylus on the market. Using it with an iPad mini, there's not much of an issue trying to peruse through the UI, since there's a fair amount of
smoothness
attached with each swipe, stroke, and tap. Turning the Sensu inside-out so that its capacitive brush is exposed, the length of the Sensu extends to the size of a normal precision brush – so it's
quite comfortable
to use. In addition, the bristles themselves are extremely
strong and flexible
to mimic the feel as if we're really painting something.
Now there isn't any special
magic
going on that makes the Sensu work with the iPad mini, mainly because the copper infused tips of the brush is registered by the capacitive touchscreen. Although it's mentioned that specific apps are compatible to work with the Sensu (ArtRage, Sketchbook Pro, Paper by Studio 53, Procreate, Auryn Ink, and SketchTime), it'll work with any to tell you the truth – albeit, you don't get precision in the form that each bristle on the brush is registered independently. Rather, the iPad mini merely recognizes it as a single entity, but it's still pretty neat that the feel of "
brushing
" is as close as you can get to the real thing.
If there's one drawback that we find with the Sensu, it has to be carefully tucking away the bristled end into the cap when it's not being using. In fact, we already noticed a couple of bristles bending because of it – so be extra gentle with this process! Knowing that there's no need for any special batteries or wireless connectivity with the Sensu, it's something that'll keep on working with anything that you do. For
$40
to experience that authentic brush-like feel with your touchscreen device, it's not too shabby at all.