Screenshot reveals that the BlackBerry Bold is coming to Verizon in May?
This article contains unofficial information.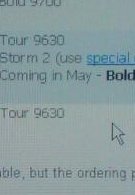 We've heard about the
name change
Verizon is taking with the rumored BlackBerry Tour2 9650 – it would seem that the Bold moniker would be used instead to vastly separate it. The preference for the Bold name could partly be found in the trackball issues that some customers have seemingly been plagued with – so the fresh name to the Bold would make sense in differentiating it from the Tour. Of all places, a screenshot from a Bank of America computer system is showing that the Bold for Verizon Wireless is coming in May for employees to purchase. Now it's assumed that Verizon most likely got their fill out of the BlackBerry Tour 9630 and able to sell a decent amount of stock, it would point to a certain likelihood that Verizon is looking to move forward with their next offering. With only a month away from May, Verizon customers can anticipate its release – no word on pricing for the handset, but it would most likely come in at the same price point that the Tour was initially sold at.
RIM BlackBerry Bold 9650 Preliminary Specifications
source:
CrackBerry