Scanadu ramps up hiring in anticipation of 2015 consumer launch of the first medical tricorder: the Scanadu Scout
2
Having a powerful computer in the form of the smartphone that's always in your pocket is empowering, but what it also does is open up the possibility to use the device as a hub to use by other accessories. One such smartphone-connected accessory is the Scanadu Scout, an ambitious device aimed to bring the dream of the Star Trek tricorder (an imaginary medical device that futuristic doctors use for scientific diagnosis of a person's medical condition) into reality.
The Scanadu Scout is designed by Yves Behar, and is basically this fairly small box that you hold in your left hand, and raise up to your temple to get a reading of your bodily stats. The Scout will give a full overview of your current vitals, the same information that a medical terminal in a hospital would determine: blood pressure, heart rate, temperature, and SpO2 oximetry. Having this very simple method to check blood pressure accurately is a big step up from hand-worn meters, but you also get temperature readings fast as well as the other aforementioned data.
The Scanadu Scout has been on a fairly long journey towards that goal - the brainchild of Walter De Brouwer, the Scout first appeared on crowd-funding site IndieGogo in the middle of last year. It attracted $1.6 million in crowdfunding, and since then, the company has also attracted $10.5 in A series venture funding. Scanadu has been actively working with the FDA to get the Scout certified as a medical device, and the commercial launch is expected sometime in 2015.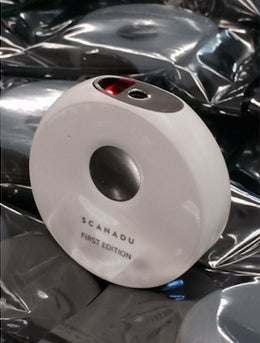 However, the Scout is only the start. In order to get a deeper understanding of your health status, you need to take a look at the fluids. The ScanaFlo system is again designed to work with your smartphone, and give you a urine analysis within just 1 minute. Currently, urine tests cannot be performed at home, and it takes more than a day to get the results at a physician. The ScanaFlo solves all of this with a system of disposables that is easy to use, and it comes with an app that explains the results in simple terms, so you can understand them. You can also send them to a doctor for a professional analysis.