Scanadu brings us one step closer to Star Trek's medical tricorder, coming in 2013
3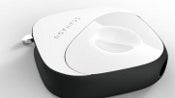 We were promised jetpacks and tricorders. Isn't it time we started getting at least one of them? With smartphones in every pocket, the additional computational brain needed for all sorts of analysis is already here. And now Scanadu has taken on the task to bring the device, the tricorder, a futuristic portable diagnostic device we've seen in films like Star Trek.
Answering a $10 million wake-up call coming from Qualcomm's X Prize for building the first tricorder from early 2012, the
Scanadu Scout
is a medical tricorder. With all sorts of sensors reading your body data, the Scout will work with your smartphone, using it to make its calculations. The device is designed to save you a trip to the doctor and keep a continuous record of your vitals - temperature, pulse and breathing pace.
The device is a two inch square box, half an inch thick, coming with an infra-red, electroencephalography (EEG) and electrocardiography (EKG) sensors that make it unique. It is powered by a rechargeable battery, and also features accelerometer and Bluetooth connectivity. The companion app
will work with iOS, Android and BlackBerry 7
via Bluetooth.
Functional prototypes are already out there and reportedly take 10 to 15 seconds to do the analysis.
Right along with the Scout come two even more ambitious projects that will decode your spit and pee into useful data. Project Scanaflu and Project Scanaflo will introduce the flu and pregnancy tests to digital diagnostics.
Instead of going to the doctor, you would simply spit on a disposable card with
Scanaflu
testing saliva for strep, influenza A and B, and other bacteria related to respiratory infections.
Scanaflo
is a bit more complex. It is a pregnancy test but not only. You have 10 boxes where you have to mix urine with what's in them to get a specific color, and you then scan this with a smartphone. This will tell women whether they are pregnant, but also it can work all through pregnancy returning important results like signs of any complications with liver and other organs.
To get the $10 million X Prize for a medical tricorder, the Scanadu Scout will have to answer the following requirements:
Provide ongoing metrics of health (vitals)
Allow monitoring or continuous use of sensors to diagnose and measure health
Provide awareness of health state
Give confirmation that everything is OK with a consumer
Notify that something is not OK (a "check engine light")
Not just that, it should be capable of
diagnosing these 11 conditions
:
Anemia
Urinary tract infection
Diabetes
Atrial fibrillation
Strep throat
Sleep apnea
Melanoma screen
Chronic obstructive pulmonary disease (COPD)
Abnormalities in a comprehensive metabolic panel
Hypothyroidism/hyperthyroidism
Leukocytosis
The Scout device is not coming in the cloudy future - it
will be available in 2013
, with a price of $150, when (and if) it passes FDA regulation, so it won't be long until we know.
source:
AllThingsD
,
Engadget