Say hello to the first Kodak smartphone ever made
28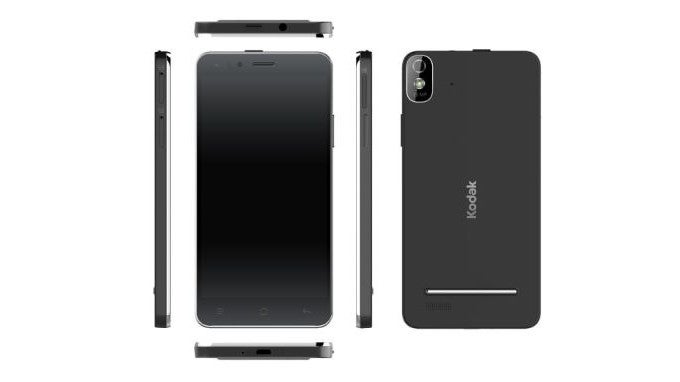 Several decades ago, photographic film-making company Kodak was so influential that its "Kodak moment" tagline became synonymous with "stuff you absolutely have to take a shot of". With the advent of the digital era, however, Kodak quickly lost steam and later had to file for bankruptcy and re-organize the business, not to mention sell half a billion worth of patents to major tech players like Google, Samsung, Apple, Microsoft, and HTC.
But enough with the history lesson – back in December, we heard that Kodak is planning on releasing a smartphone that will bear its brand at CES 2015, but the device itself will be built by Bullitt, the company that manufactures CAT's ruggedized smartphones. It turns out, the duo wasn't kidding, for the Kodak IM5 is now a reality.
The Kodak phone is a respectable, upper mid-range device, with a manageable, 5-inch display (720 x 1280 pixels, 294 ppi), an octa-core MediaTek MT6592 processor, 1GB of RAM, 8GB of microSD-expandable internal storage, and a set of 5MP/13MP cameras at the front and back, respectively. The device showcased at the CES floors ran Android 4.4 KitKat, but Kodak is promising an upgrade to Android 5.0 Lollipop later in the year. Speaking of Android, don't expect a stock-looking interface. Rather, Kodak and Bullitt have created a pretty simplistic UI that is obviously aimed at newcomers to smartphones, and has also included a separate (supposedly easier-to-use) app store alongside the Google Play Store.
Kodak says that the IM5 is for "
consumers who appreciate the value and heritage of the Kodak brand
", but don't go thinking that it has any serious photographic chops. The camera software is pretty down-to-the-point, and users can't fiddle with manual settings and the like. That said, according to
CNET
, the first Kodak phone will cost just €229 in Europe, where it will launch in the first quarter, and eventually make its way to the US with a tag of $249.