Samsung's Game Tuner app lets you tweak the resolution and framerate of Android games
34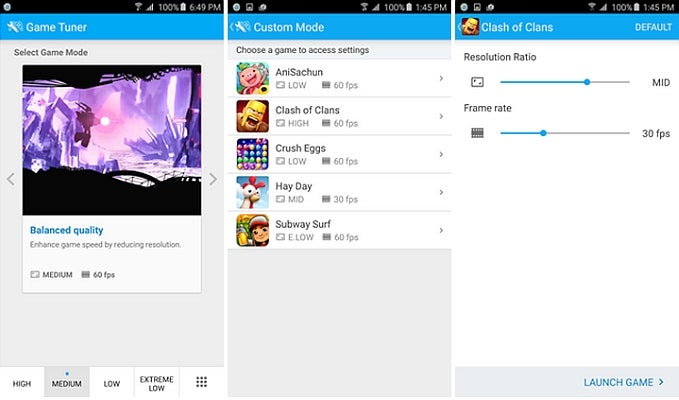 On the PC, most gamers rely on the ability of dialing down the resolution of the in-game graphics in order to adjust performance, especially if the situation involves running demanding games on older machines. On our smartphones, this is not an option, as each app runs at a certain pre-defined resolution. Samsung decided that it's time to change all this and has launched a unique app that we're very excited to start testing for ourselves.
Samsung promotes the app, called the Samsung Game Tuner, as a great tool for saving up on battery life and improving performance by reducing the quality of the graphics. You can select between device-level profiles - High, Medium, Low, or Extremely Low - or you can tweak the resolution and frame rate threshold for each game individually.
For a feel of the UI, here are the official screenshots:
The app is now available for free from the Play Store. Unfortunately, the game graphics tweaking system is only compatible with the
Samsung Galaxy Note5
and the
Galaxy S6 edge+
at the moment. The Play Store description of the app says that support for the
Galaxy S6
and the
Galaxy S6 edge
is "in preparation", hardly surprising news given the near-identical hardware.
In theory, the ability to dial down the framerate from 60FPS to 30FPS if the game doesn't need ultra fluency or reducing the texture resolution if graphics quality is not a title's main strength, can help reduce the toll on both the battery and the GPU. This is a customization level that many Android users would like to have on their smartphones.
It's easy to see how the Samsung Game Tuner would be needed on other Galaxy phones, especially mid-range and entry-level handsets that often lack the processing power to run the most 3D-intensive Android titles. Reducing the graphics quality on such devices wouldn't be done for the extra battery life, but rather to ensure that demanding apps run smoother.
Interestingly, some claim that they've noticed better graphics when forcing titles to run in high-resolution mode compared to before installing the app. That's a particularly interesting claim, one that we'll have to take a closer look at before drawing conclusions. At a first glance, this seems unlikely seeing as phones with 2K displays automatically make use of high-resolution resources if available.

This sounds like a very interesting app, so make sure head over to the source link and upgrade the graphics quality if you're rocking one of the two supported handsets.