Samsung's 64MP camera phone to be released sooner than we thought
14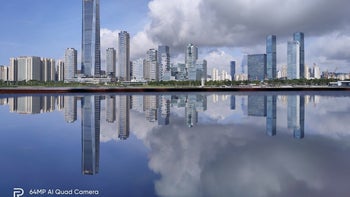 Not long ago, Samsung announced a phone camera sensor that carries a
record resolution of 64 MP
. That's way more than the current ubiquitous 48MP Sony sensor that every Chinese maker seems to slap in their handsets these days.
Needless to say, more pixels don't equate a better picture per se, as they are usually made tinier to fit the count, and collect less light, all other things being equal. With the magic of pixel-binning, or combining information from several pixels into one, however, not only is the resulting photo file smaller in size, but also the snap itself is usually able to overcome the smallish pixel size.
We can imagine the amount of pixel-binning that will be happening with a 64MP sensor, resulting in a nice 16MP photo if four pixels get folded into one virtual like how the current 48MP sensors churn out perfectly usable 12MP shots.
What phone will Samsung use its new 64MP camera sensor in first, then? Well, one in the A-series, if the serial Samsung leakster Ice Universe is to be believed. Last month, they posted that "
the international premiere of Samsung's 64MP sensor is in a mysterious model of the A series
." Meanwhile, Xiaomi was also tipped to out a phone with 64MP sensor within its budget Redmi brand portfolio.
Samsung has apparently reopened its plans to equip an A-series model with a 64MP camera, claims Ice Universe today, and it is coming sooner than we thought, as soon as the summer whizzes by, and the fall crop is upon us.
By the way, this month, Redmi will also release a 64MP camera phone, Samsung also restarted plans to launch 64MP A series phones in September-October.

— Ice universe (@UniverseIce) 2 август 2019 г.

What does Samsung's 64MP GW1 sensor with Tetracell technology offer besides high-res photos? Well, improved low-light performance, better highlights exposure for bright elements, even faster autofocus and improved HDR photography, nearing the perception of the human eye. The proof is in the pudding, i.e. the actual photos, though, and the first sample you see above is doing a good job with tricky components like clouds and reflections.
The Indian-oriented brand
Realme
is expected to out the first phone with Samsung's high-res sensor next week, so we will have plenty of new samples to gawk at while we wait for the A-series phone with the same sensor