Samsung will soon launch Penvatars for the Galaxy Note 4 and Note Edge
19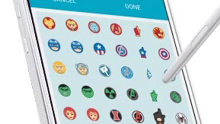 Samsung is about to make its S Pen experience on select Galaxy handsets a little bit more fun, as it's launching what it's calling Penvatars. These are small avatars that can bring your S Pen's pointer to life whenever you hover the stylus above the display.
Samsung has teamed up with Marvel for the first set of Penvatars. Thus, you'll get to see Iron Man, Captain America, The Incredible Hulk, Thor, and other heroes from The Avengers on your Galaxy screen.
Unfortunately, Samsung isn't saying when Penvatars will be available for download. In any case, we know that, for the beginning, only owners of the
Galaxy Note 4
and
Galaxy Note Edge
will be able to spice up their S Pen experience with these super (hero) pointers.
Both the Galaxy Note 4 and Note Edge use a new S Pen stylus - Samsung's best yet. Do you have any of the two devices? If yes, what do you think about these Penvatars that Samsung is getting ready to launch?