Samsung will be supplying the OLED displays for Google Glass
26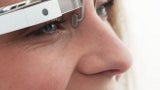 Google Glass
isn't expected to see its official debut anytime soon, but that doesn't mean that work on the product isn't going with full force as we speak. For example, we have now learned that the tiny display that Google's futuristic glasses will be equipped with will be supplied by no other but Samsung.
It appears that the Google Glass units that have already shipped to developers, the so called Explorer Edition, are using an LCOS display, or Liquid Crystal on Silicon. However, for the retail version of the device, Google will be looking to incorporate an OLED display, which could improve the power efficiency and size of the final product. And, as we all know, Samsung is the king of OLED displays, making it the perfect candidate for the position of Google Glass display supplier.
All of this sounds good to us. The only bad thing is that the Glass isn't expected to come out until sometime next year, as Eric Schmidt says, so it'll be a while before we can take a look at what could be the smallest OLED display yet. Are you guys, excited about Google Glass? Do you see it as a product that could successfully enter your daily grind?
via:
AndroidAuthority