Samsung wants to help you drive safely with its new In-Traffic Reply app
1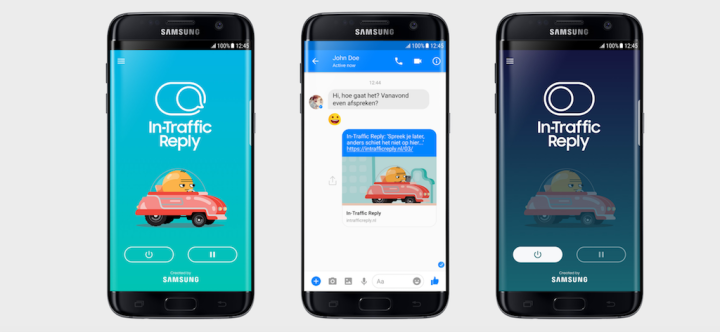 We live in times where a lot of road accidents are caused by smartphones. Many people habitually respond to every little beep or alert that comes out of their handset, which can be particularly deadly if the circumstances require one's attention to be focused elsewhere.
This is why Samsung Netherlands has invented a new app called
In-Traffic Reply
. It is essentially designed to help you keep your eyes on the road and hands upon the wheel while you're driving. The app automatically detects when a user is in their vehicle, and when enabled, it can reply to incoming calls and messages with a standard response or a custom animation/text.
In its press release, Samsung Netherlands reports that one third of Dutch drivers have admitted to using their smartphone while driving. These statistics are from a PanelWizard survey, which also specifies that users experienced social pressure, feeling that they needed to respond immediately whenever a call or message alert appeared. Nearly 40% of the surveyed people stated that they also felt the need to check up on their location or their estimated time of arrival while driving. Given these numbers, we sure hope that In-Traffic Reply will actually catch on.
The app is currently in beta and it's expected to launch next month in the Netherlands. If it proves to be a useful tool, we can expect Samsung to implement it on a broader basis in the future.