Samsung unveils plans for wearables: slimmer Galaxy Gear by April, health functions coming, and one more thing
11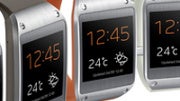 Samsung will release a thinner, evolved Galaxy Gear smartwatch with improved new features, possibly including health-related functionality. The new device will be officially unveiled alongside the Galaxy S5 by April, according to Samsung's own mobile VP Lee Young Hee.
"When we release our S5 device, you can also expect a Gear successor with more advanced functions, and the bulky design will also be improved,"
Lee said in an interview with Bloomberg.
Samsung will also shift focus to adding health functionality to its wearables, so you'd be able to use them to check your calorie intake, heart rate and stress levels.
"Health-care related functions will be the most inherently tied functions to future wearables,"
Lee said.
"We see a very big potential from there."
We already know that Apple is hard at work on a wrist-worn device that many are saying would be called the iWatch. In reality, Apple's tight-lipped policy makes it hard to say whether that wrist-worn device would indeed be a watch, or just some kind of a wristband. What we do know is that Apple has hired top-level industry experts in the fitness field, and chances are its new wearable will come with the capability to somehow track your fitness. There will clearly be a huge battle in this emerging wearables category, and Samsung is trying to stay ahead of the curve, and naturally - ahead of Apple, with this announcement.
A new Galaxy Gear, however, is not all. Samsung is also planning a
"one more thing"
moment by the end of the year with the release of a second wearable device. It's keeping all details a secret at the moment, but this is set to only fuel speculations. The most obvious candidate for this mysterious second wearable is a Google Glass-like device made by Samsung. A patent filing from October 2013 reveals that Samsung is indeed working on eyeglasses that tether to a smartphone to display information, and can be used to take and make calls.
All in all, Samsung is starting the year with a bang, and we are finally starting to see proof that 2014 will indeed be the year of the wearable.
source:
Bloomberg