Samsung tried to crash Apple's iPhone 6s launch in London
99+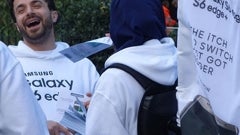 As you probably already know, Apple today launched the
iPhone 6s
and
iPhone 6s Plus
in various countries around the world. As always, fans gathered outside of Apple retail stores in order to be among the first to get their hands on the new iPhones.
Samsung felt the need to remind Apple users (and smartphone users in general) that there are alternatives out there - thus, it sent out a few employees to try and crash the iPhone 6s launch event at Apple's flagship Regent Street store in London, UK. More exactly, Samsung employees were spotted carrying banners that read: "The iTch To Switch Got Bigger", promoting the
Galaxy S6 edge+
, a 5.7-inch high-end Android smartphone with a dual-curve display, which was recently released alongside the Galaxy Note5.
We've no idea if any of the customers who went to Apple's flagship store in London to buy an iPhone 6s were persuaded by Samsung to make the switch (or at least to ponder it). In any case, it's always fun to see Samsung trying to fight Apple on all fronts, isn't it?
source:
Android Central