Samsung to pay royalties to Microsoft for every Android it makes, inks cross-licensing deal
36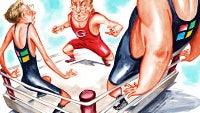 Samsung will pay Microsoft royalties for every Android
handset and tablet it releases, but it will also widen the collaboration with Redmond over Windows Phone devices and will go as far as participating in the marketing of the new products, Microsoft announced today. That's a huge win for Redmond as Samsung is one of the biggest Android makers. Earlier, another major Android phone maker, HTC, signed a deal with the software giant over licensing.
Update:
Korea Times seems to have dug up the financial details of the deal saying that
Samsung will pay Microsoft $180 million
in royalties next year.
HTC and Samsung
together reportedly accounted for half of all Androids sold in the States in the last year:
"Together with the license agreement signed last year with HTC, today's agreement with Samsung means that the top two Android handset manufacturers in the United States have now acquired licenses to Microsoft's patent portfolio. These two companies together accounted for more than half of all Android phones sold in the U.S. over the past year. That leaves Motorola Mobility, with which Microsoft is currently in litigation, as the only major Android smartphone manufacturer in the U.S. without a license," Microsoft's Brad Smith and IP lawyer Horacio Gutierrez said.
This leaves Motorola as the only big phone maker that still hasn't reached an agreement with Microsoft over its
intellectual property claims
for Android. What are the prospects on that? Given the fact that Microsoft had also secured a deal with ViewSonic, Acer and other not so well known companies, it seems that Android will become a key factor in Redmond's mobile profits.
Image courtesy of Letmedefine.com.
Recommended Stories