Samsung to introduce a foldable smartphone in 2017?
28
According to a new report, Samsung is currently working on a pair of foldable phones with one model expected to hit the market in 2017. This unit would come with two screens and could be unveiled during CES or MWC next January or February respectively. A foldable phone that opens into a tablet has been a long time dream for the industry. During its TechWorld event last June,
Lenovo demonstrated a phone that could be folded and bent into a bracelet
. The company also demonstrated a tablet that could shrink into the size of a phablet. Neither product is in the position of being produced for the public.
Samsung's foldable phone with the dual screens would have a hinge in the middle allowing it to have three positions. One would have both displays facing outward allowing the device to have a screen in front and another in back. Another position would have the two displays facing each other inward. This would be done to protect the glass from breaking while the device is being moved around in a pocket or a briefcase. The third and last position would allow the user to have both screens combined into one large tablet sized display.
Keep in mind that according to the report, Samsung has not decided to go "full speed ahead." The company is using the device to see how much demand there will be from the public for such a phone, and to show the public what foldable phones can do. The company is said to have a plan in mind that calls for it to analyze consumer feedback and then apply it to two designs that it has been working on. One is an "out-foldable" design, the other is an "in-foldable" design that Samsung used in a 2013 ad that we have embedded at the top of this story.
Samsung isn't taking chances this time and is proceeding slowly. The company and its reputation is still rebounding following the recalls of the
Samsung Galaxy Note 7
.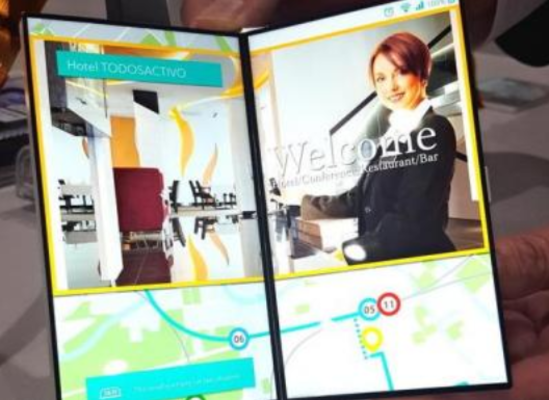 Samsung's dual screen foldable phone is said to resemble this prototype by Japan Display
source:
ETNews
via
AndroidAuthority