Samsung to call its upcoming phablets 'Galaxy Mega', 5.8" and 6.3" variants in the works
37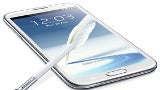 There's a new rumor floating around that Samsung is going to introduce a new branding for its upcoming 'phablet' devices. According to SamMoble, the two phablets that are said to be in the works, which are rumored to feature a 5.8" screen and a 6.3" screen, respectively, will have the name 'Galaxy Mega' and will not be part of the Galaxy Note series.
The fact that these guys will be separate from the Note series is "proven" by their rumored model numbers, which are said to be GT-I9152 for the 5.8" one and GT-I9200 for the 6.3" one. While all this sounds believable, it doesn't really make sense to us, because handsets with such enormous screens would make for perfect devices for hand-writing. Then again, Samsung might decide to include an S Pen with them anyway, though that would make it a bit weird to keep the Galaxy Note series as a separate line. Unfortunately, the source doesn't provide any details as to what's expected to happen with the Galaxy Note line once the Mega devices arrive.
SamMobile, which has an alright track record when it comes to Samsung-related leaks, says that Samsung plans to launch the Galaxy Mega 5.8 sometime around week 22 (May 27 - June 2) in white color, and the Galaxy Mega 6.3 - around week 25 (June 17 - June 23) in black and white colors.
As much as we'd like to believe this information, we do feel that it would be best if we consume this information with a grain of salt.
source:
SamMobile