Samsung smartphones outsell the Apple iPhone almost 2 to 1 in the third quarter
99+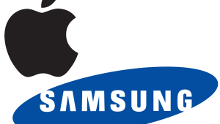 According to research firm Strategy Analytics, Samsung sold 83.8 million smartphones in the third quarter. That number is nearly twice the 48.4 million iPhones that Apple sold during the same period. In terms of market share, from July through September Samsung had 23.7% of the global market compared to Apple's 13.6% slice of the pie. Overall, the global smartphone market grew 9.5% year-over-year, amounting to 354.2 million phones sold for the period.
For Samsung, the third quarter sales figure represented a 6% hike from the number of smartphones it rung up during the second quarter of this year. For Apple, the 48.4 million iPhones sold was a healthy 36% improvement from the same quarter last year. According to the report from Strategy Analytics, Samsung's sales were led by mid-range models like the
Samsung Galaxy A8
and the
Samsung Galaxy J5
.
Huawei was third, capturing 7.5% of the global smartphone market. The company sold 26.7 million units during the three month period. With 5.3% of the worldwide smartphone market, Lenovo was fourth. The company rung up 18.8 million handsets from July through September. That was one million more units sold during the quarter than Xiaomi tallied. The latter had a 5% share of the global smartphone market in the third quarter.
Thanks for the tip!
via:
YonhapNews
,
GforGames