Samsung patents smartphone case that could wirelessly charge your Gear watch
8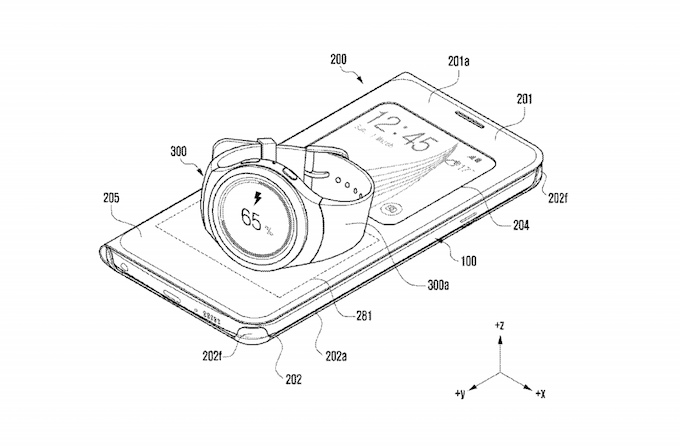 In a document dated June 15th, the US Patent and Trademark Office published a patent filed by Samsung in December last year. The document describes a smartphone case that may prove to be a fantastic addition for any fan of the brand, especially those, who own a Gear watch. Even though it's a simple patent publication, we are kind of excited about the possibility of such a phone case, despite the fact that patents rarely actually evolve into actual products.
The accessory Samsung might be prepping is described to sport wireless charging of a wearable device, when the latter is placed on top of the case. Nice, eh? The device incorporates Millimeter Wave technology, also known as Extremely High Frequency waves, which permits power and data transfer.
Samsung's patent document describes that the case's claimed function is to permit wireless charging of a wearable gadget, but also specifies that it may be later integrated with multimedia apps and services. The patent speaks of possibility for data transfer and control of a wearable through a dedicated uncovered part of the case, where you can view information or execute tasks through the phone's screen.
The back of the case houses a power transmission coil and a USB-C type connector that links the case to your phone. The front side contains a wireless power control processor and a DC-AC conversion unit that converts DC electricity from the battery into AC.
Interestingly enough, just a day before Samsung's patent was published, Apple was granted a similar patent, but its case only went as far as merely wirelessly charging your iPhone – no mention of Apple Watch compatibility.
In any case, we shouldn't hold our breaths for either case to hit the production belts anytime soon, if at all. We can't really tell how such cases would look in reality, either, as patent notes often leave quite a bit of scope for design. But, hey, we are definitely starting to make toddler steps into the era of wireless charging, after many years of crawling towards a viable tech in the area.
source:
USPTO
via
SamMobile