In Russia, new Samsung Wireless Charger Duo releases itself... with Galaxy Watch mention
7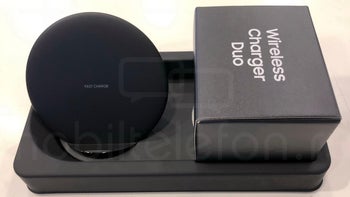 Just in time for the
Note 9
and
Galaxy Watch
announcement, Samsung will be releasing a new
Wireless Charger Duo
that can top off both a phone and a smartwatch. The pad/stand combo will be strutting its stuff alongside the Note 9 on August 9, and may have a cheaper version as well.
As far as release goes, well, cue the "in Soviet Russia..." jokes here, but the combined charger is already chillaxing in stores in Moscow for the world to see. As you can deduce from the pictures, Duo seems to be a combination of Samsung's wireless chargings pads and stands, as can be expected from the title.
This setup allows you to charge a handset both lying down or standing up, and with an adjacent area for your smartwatch, presumably the upcoming Galaxy Watch, and its Gear predecessors, but essentially any Qi-enabled timepiece, too.
Insider sources claimed an EUR 75 pricing, which will likely translate into the same tag, but in dollars, come this side of the pond, but the price in Russia is pegged at the equivalent of $112 in local currency, though Moscow is a pretty expensive city, and we wouldn't draw many conclusions for the US price from that Russian tag.
As you can see from the live pictures of the Duo below, it does sport a Galaxy Watch mention and a whopping 25W wall charger that will probably be topping off compatible Qi devices in no time.