Crack! Apple iPhone 4 glass said to break 82% more than glass on Apple iPhone 3GS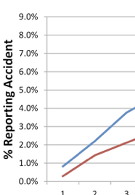 According to a report issued by warranty provider SquareTrade, the owners of the Apple iPhone 4 have suffered broken glass on their device 82% more often than owners of the Apple iPhone 3GS have. Of course, we aren't exactly comparing Apples to Apples here because the newer model features a glass rear, unlike any other version of the handset. The results were based on a survey of 20,000 iPhone 4 models, 4 months after they went on sale.
Other findings show that Apple iPhone 4 owners were 68% more likely to have an accident when compared to those who own the Apple iPhone 3GS. 15.5% of those who bought the latest version of Apple's touchscreen phone will have an accident within the first year of ownership. Interestingly, while .5% of iPhone 3GS owners claimed a non-accident malfunction on the unit, the same problem happened to .5% of those using the iPhone 4.
Apple iPhone 4 Specifications
|
Review
Apple iPhone 3GS Specifications
|
Review
source:
mobilesyrup