Samsung launches bada 2.0 SDK
52
Korean phone maker Samsung
launched bada 2.0 software development kit
today to help developers make use of the new features of the platform including multi-tasking, NFC and voice recognition. Samsung's bada OS might not be popular stateside, but it managed to climb in popularity to become the
world's fifth biggest smartphone platform
with just above 2 million phone sold, outpacing Microsoft's Windows platforms which only managed to sell 1.72 million.
Samsung confirmed that the new version of bada will come on
three new handsets
including both a high-end and lesser specced models.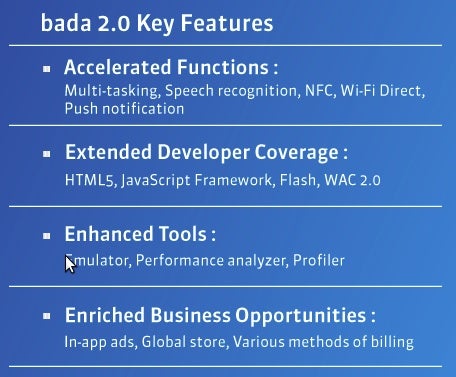 Just a couple of days ago, the Koreans teased us with an upcoming September 1st announcement depicting an ocean, which hints at bada as in Korean the word translates as ocean. The platform is most popular in Europe, China and Southeast Asia, where there are seven devices running the platform.
The
future for bada
however remains uncertain as the Korean government recently announced plans for a new mobile OS, jointly developed by Samsung and LG, and aimed to compete with Android and iOS. The platform wants to woo Symbian developers and Samsung has posted a practical guide for experienced Nokia programmers, but will this be enough for bada to survive and grow in today's competitive environment? Stay tuned as Samsung should answer that question with its September 1st announcement very soon.
source:
bada developers