Samsung launches Edge-ucational videos to promote the Galaxy S6 edge (and Snapchat)
60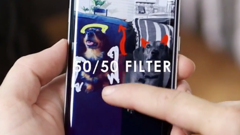 Remember that
Galaxy Note 4 promo video that was full of puns
? Well, Samsung is kind of back in
the pun business
with a series of "Edge-ucational" videos, which obviously feature the
Galaxy S6 edge
.
Samsung has teamed up with Snapchat celebrity Shonduras (who creates Snapchat art by drawing on top of photos), and made several videos that share "secret Snapchat secrets" - so you too can make Snaps look cool. Needless to say, these secrets are shared using a Samsung Galaxy S6 edge in each video, and you can watch them all below.
As you may already know, the S6 edge is the fancier, more expensive variant of the regular
Galaxy S6
, sporting a unique dual-curve display (while most of its other features are identical to those of the S6). The S6 and S6 edge are Samsung's newest flagship smartphones, and we expect to see them in many other promo videos and ad campaigns. You can find out more about both handsets by checking out our
Galaxy S6 review
and our
Galaxy S6 edge review
.