Samsung is making a high-end flip phone that looks like a Galaxy S8, but there's a catch
7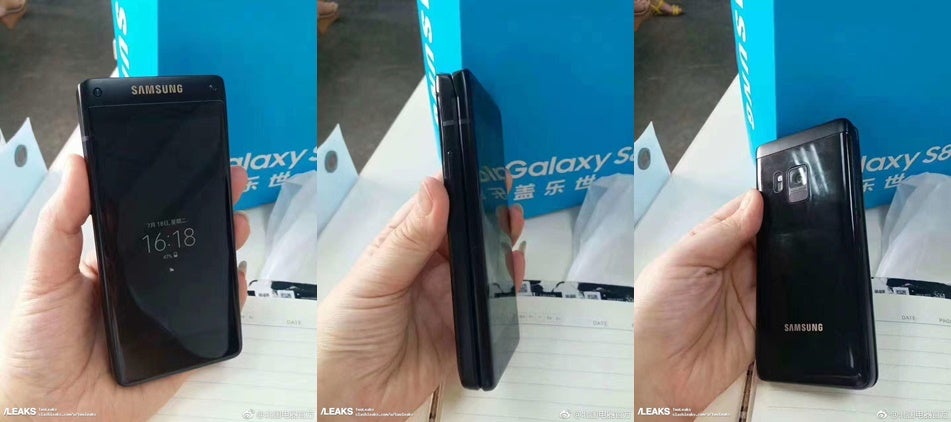 You might not see many (if any at all) flip phones around these days, but that does not mean that the form factor is dead.
In fact, Samsung is preparing to release a brand new high-end flip phone that features Galaxy S8-like styling. At least according to these leaked pictures that portray what looks a nearly finalized device. Keep in mind, though, that Samsung has not officially confirmed the existence of the model just yet.
The new Samsung flip phone carries model number SM-G9298, and the particular model pictured here is known as the SM-W2018. It has a 4.2" display on both outside and inside, but before we tell you more, you should know that there is a catch: this phone is not coming to the United States or Europe. Chances are that it will be released in a very limited amount of Asian markets, with China being its biggest focus.
With this in mind, the 4.2" new flip phone by Samsung looks like a higher-tier phone. Here is a quick peek at its most important specs:
Qualcomm Snapdragon 821 processor
4GB RAM
64GB storage
2,300mAh battery
The new flip phone is also expected to feature a 12-megapixel rear and 5-megapixel front camera, as well as things like wireless charging, NFC and Samsung Pay. Of course, you can also see the fingerprint scanner located on the back of the phone and the fact that there is no dual camera magic going on in this phone.
Speculations say that this phone could be launched around or rather slightly after the August 23rd unveiling of the flagship Galaxy Note 8.