Samsung is developing a next-gen 5.5-inch 4K display, specially designed for VR
34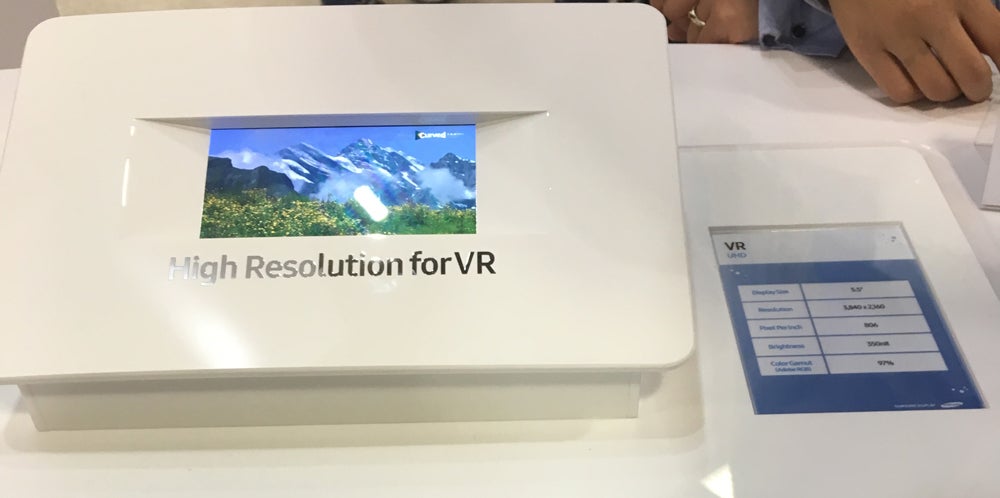 Earlier this week, Samsung revealed a prototype 5.5-inch 4K display at the Display Week conference in San Francisco.
The small high-res display boasts a resolution of 3840x2160 and a pixel density of 806 PPI. Just for reference – the Oculus Rift and HTC Vive both currently have a resolution of 2160x1200.
The display is still a prototype, so it's highly unlikely that it will be featured in the upcoming Galaxy Note device, despite rumors that it will boast a 4K screen. This is further backed by the fact that, since the
Note 5
had a 5.7 inch screen, it is very unlikely that Samsung will decrease the display real estate of the next Note device.
It's still unclear what Samsung will be using its highspec'd screen for – and when – but the Korean manufacturer's partnership with Oculus might mean that we could first see it in action in an upcoming headset from John Carmack and co.
UploadVR's Will Mason, who's had the chance to see Samsung's new screen for himself, reports that "display itself was pretty gorgeous, bright with excellent contrast and color – however it seemed to be running a lower frame rate, so it may currently have a less than optimal refresh rate for VR."
High-res screens are not the only VR tech Samsung is working on. At Display Week in SA, the company also showcased a new technology called "Bio Blue", which is aimed at reducing the potentially harmful blue light, emitted from screens. Samsung claims that the new technology could reduce the levels of blue light emitted from current AMOLED displays from 32 to only 6 percent.
So, although we don't know when we'll see Samsung's new technology in action, let's not forget Sony's
Xperia Z5 Premium
with its 801 PPI display. Sony still doesn't have a mobile VR offering, and we can't help but wonder why. The Z5 Premium would be perfect for the job. Did Samsung just give a great idea to the competition? Tell us what you think in the comments bellow.
source:
UploadVR
via
SlashGear
Recommended Stories