Samsung intros new Level series of mobile optimized audio accessories
17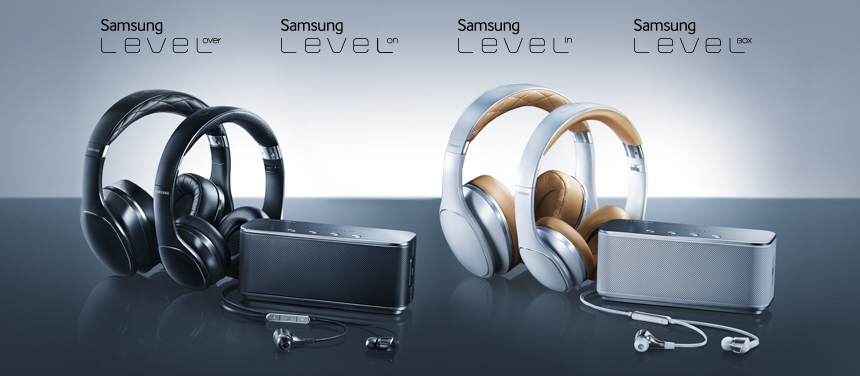 Samsung just announced a brand new series of "premium" mobile audio devices gathered under the name Level. According to the South Korean company, Samsung Level "is a comprehensive selection of mobile optimized audio products to accompany smartphones and tablets." There are four new products included in the series: Level Over, Level On, Level In, and Level Box.
Samsung Level Over is the company's "flagship over-ear headphone." Its features include touch controls, "superior HD organic sound", wireless Bluetooth pairing, active noise cancellation, and a 50mm bio-cellulose diaphragm with Neodymium magnet. The headphone weighs 350 grams, and has its own Samsung Level app (available via Google Play and Samsung Apps).
Samsung Level On is a bit smaller than the Level Over, weighing 210 grams and featuring a 40mm dual layered diaphragm.
Level Box is a Bluetooth speaker that weighs 600 grams, as it offers a "full metal grill" and "a solid metal design." It features a 56mm stereo speaker with passive radiator, and can be paired via both Bluetooth and NFC.
Lastly, Level In is an in-ear headphone with a three-way speaker system that reportedly provides "an immersive sonic environment for any activity."
"Samsung understands the importance of music and audio in the lives of our consumers. With the Level series, we have crafted an incredible line of audio products designed for the mobile user with organic sound, premium design aesthetics, and optimized mobile audio controls," says JK Shin, CEO and Head of IT & Mobile Communication at Samsung Electronics.
Pricing details haven't been revealed, though we assume that these new Level products won't come cheap. Samsung said that they'd be available "in most markets around the world" starting May - so we'll find out more about them next month. All four Level accessories have two color versions (black and white), and they're probably compatible not only with Samsung-made phones and tablets, but also with devices from other companies.
source:
Samsung