Samsung introduces 6.7-inch Galaxy Note 2 Quad: "because we can"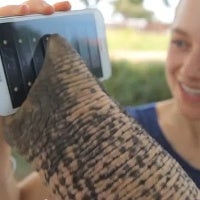 Samsung's
5.3
-inch Galaxy Note pushed the boundaries of what we think is a phone, but if you think Samsung's innovations stop here, you're dead wrong. The Korean company now introduces the
Galaxy Note 2 Quad
: a 6.7-inch monster phone. Samsung didn't reveal any other technical details about the upcoming device.
"

We just wanted to make a phone that is twice bigger than the iPhone.

The rest of the specs don't matter, but there's something quad in it, just in case,"
Samsung explained.
Samsung is also preparing a creative marketing campaign to explain the obvious benefits of having such a screen. It features the world's tallest man crying in excitement and two African children testing out the new S Feet interface, where you navigate your phone with your bare toes. You'd need special conductive socks if you plan on using the feature in the winter. The Note 2 Quad will launch with Tap Tap Revenge redesigned for multiplayer supporting up to 4 feet on the same device. The 6.7-inch Super Something Plus Extra screen, of course, repels body odors.
We reached out to Apple for a comment and got the following vague reply:
"It's too big, absurd and all, but we'll sue anyway
xoxo
-Tim"
We forwarded the comment to Samsung, but they were too busy hiring lawyers to reply.
Finally, NBA ex-superstar Shaquille O'Neal liked the phone, but wished it was a tiny bit smaller. Well, to that we say, get used to it, Shaq! The Note 2 Quad will hit shelves in a month globally, but it will take at least a year for US carriers to figure out how to rename it slightly before bringing it to users.