Samsung goes all futuristic with a flexible smartphone that becomes a bracelet (or is it the other way around?)
25
If you thought the Galaxy S6 edge and Gear S are the pinnacles of Samsung's flexible OLED screen achievements, you've seen nothing, friends. Samsung has been researching the technology for over five years now, amassing patents for wildly futuristic ideas that must wait for their time to come.
Despite the secrecy, sometimes we actually get little glimpses of the company's behind the scenes work thrown at us, and it's hard not to be impressed! Future Samsung's latest masterpiece is a smartphone-bracelet hybrid of sorts, which is - in extremely basic terms - a flexible OLED screen attached to a sequence of segments designed to be rotatable. That is, the segments can be curled into a bracelet shape, or "extended" into a flat shape, and thus becoming a smartphone - or whatever Samsung envisions as the device's purpose.
Although the purported wearable looks more appropriate for a rave party rather than something to be worn on a daily basis in all occasions, the concept itself is pretty cool and might turn out better than expected. Then again, in the year 2130 or so, users can always opt for an implant if they have a problem wearing flexible OLED smart bracelets to dinner. Convenient, no?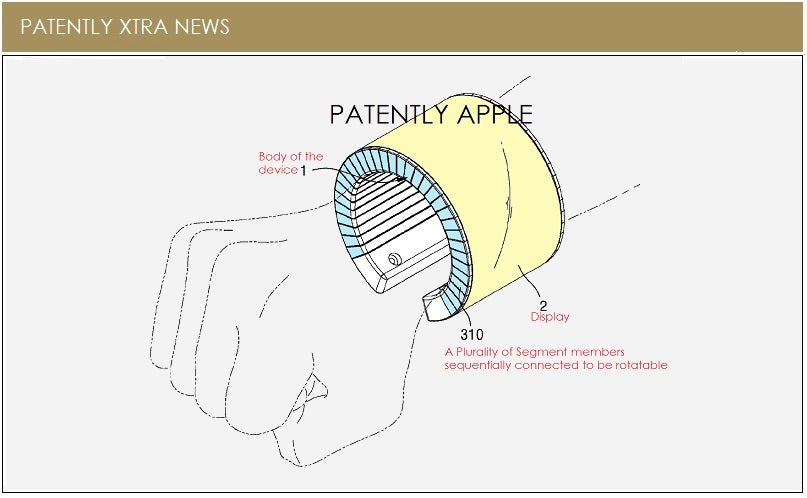 source:
PatentlyApple
via
GSMDome