Samsung finishes second in new USPTO patents awarded in 2014
20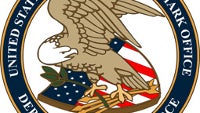 The USPTO awarded Samsung 4952 patents in 2014, or an average of 13.5 a day. For Samsung, that was an increase of 5.9% over 2013's number. Samsung's top rival, Apple, was awarded 2003 patents last year. That put the iPhone manufacturer just behind 10th ranked Panasonic, but ahead of General Electric which finished 12th. Apple's patent awards last year represented a gain of 13% over the number it received in 2013.
Among patents that Samsung received last year
was one for a phone with an aspect ratio of 21:9
. Apple received a patent for
internal changes to the iPhone that would allow it to land on a less fragile part of the device when dropped
. Apple originally filed that patent back in March of 2013. Both Samsung and Apple filed numerous patent applications in 2014, so both companies should continue to be awarded large numbers of new patents in the years ahead.
Google showed a huge jump in patent awards for 2014. With a huge jump of 38.6% year-over-year, the company finished 8th which put it in the top ten for the first time ever. Mobile silicon slinger Qualcomm finished 7th. For the 22nd consecutive year, IBM was awarded the most patents by the USPTO. For 2014, Big Blue had 7534 patents approved, a 10.6% increase over 2013's total. After IBM and Samsung, the top five included Canon, Sony and Microsoft in that order. While not in the top ten, Facebook saw the number of patents received in 2014 surge 120% over the prior year's figure.
Showing that innovation is not dead, the USPTO awarded a record 300,678 patents last year, a gain of 8%.
source:
IFIClaims
via
AppleInsider