Samsung creates special team to design displays for Apple devices
61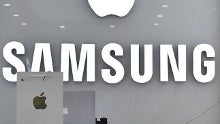 According to a new report from Bloomberg, Samsung has created a team of 200 employees that will exclusively deal with Apple's display needs. The new Samsung team, allegedly formed on April 1st, is said to be prohibited from discussing Apple business details with any external sources, including Samsung's other teams.
Although Samsung and Apple are direct competitors in multiple markets (smartphones, tablets, and now even smartwatches), and the companies have been engaged in a
fierce legal battle
over the past couple of years, the two tech giants have a long history of collaboration. Samsung started manufacturing various components, mainly display panels, chipsets, and flash memory modules for Apple's iPhone and iPad line-ups starting with the
iPhone 4
back in 2010. The new Samsung team is interpreted by Bloomberg analysts as a sign that the relationship between Apple and Samsung has improved, especially after the two companies dropped their court battles outside of the US.
Bloomberg sources claim that Apple is now Samsung's biggest external customer for Samsung-made hardware components. Previous rumors suggested that Samsung will be one of the two companies that will manufacture
Apple's upcoming A9 chip
, expected to be launched with this year's iPhone models. The other chip manufacturer is said to be TSMC, the company that manufactures all of the Apple A8 chips that go into the
iPhone 6
and the
iPhone 6 Plus
.