Samsung could very well beat Intel and become the biggest chip maker in the world soon
34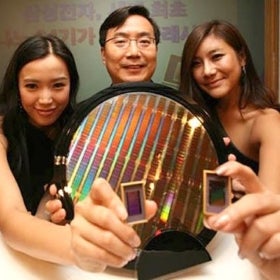 Intel might be in for a dethroning this quarter. The company that has given us most of the best PC processors has been the top chip maker since 1993, when it released its first Pentium CPU that jump-started the personal computer market. However, its 24-year reign as the top silicone supplier might be coming to an end.
If current trends in the industry continue for the next few months, Samsung will be taking the throne from Intel as the top chip maker in the world. The South Korean tech giant has to thank its memory department for this, as the continued rise of prices and demand for memory chips is driving Samsung's sales up.
It is mostly Chinese consumers' fault that memory prices skyrocketed. Users in China demand more and more high-end devices, creating more demand for the memory components that OEMs use to produce them. Samsung is making sure to capitalize on the growing demand through its DRAM and NAND flash memory chips, whose prices are expected to rise 39% and 25% respectively.
"If memory market prices continue to hold or increase through the second quarter and the balance of this year, Samsung could charge into the top spot and displace Intel, which has held the No. 1 ranking since 1993,"
said Bill McClean, president of the US research company IC Insights.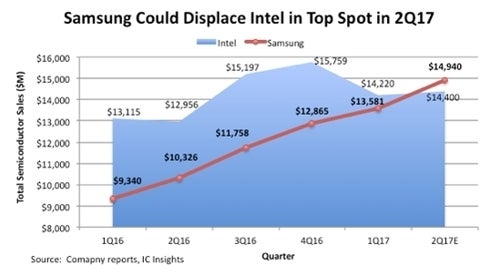 McClean's firm predicted that Intel's chip sales for the current quarter will reach $14.4 billion, while Samsung's will rise to $14.6 billion for the same period. That would be a 4.1% increase year-over-year for Samsung.
"If achieved, this would mark a milestone achievement not only for Samsung, specifically, but for all other competing semiconductor producers who have tried for years to supplant Intel as the world's largest supplier,"
McClean also added.
IC Insights also said that if memory prices don't drop in the second half of 2017, Samsung might also beat Intel in sales for the entire year. Currently, both companies are expected to make about $60 billion in semiconductor sales in 2017.
Another research firm, Nomura Securities, also commented on the current situation, predicting record-breaking revenue for Samsung in Q2 2017, thanks to the rising memory demand and the release of the
Galaxy S8
and
Galaxy S8+
.
"The global demand for memory chips will continue for the time being. Samsung is predicted to post 13.5 trillion won [$12 billion] in operating profit and its chip unit is expected to record 7.4 trillion won [$6.5 billion] in operating revenue in the second quarter,"
said Chung Chang-won, chief of Nomura Securities' research center.