Samsung announced the OMNIA touch smartphone
34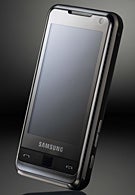 Today, Samsung announced the OMNIA, touted as a multimedia-friendly smartphone and an all-in-one device. Until now, it was known by its internal model number (SGH-i900) since information about it has leaked from a few sources. As it is official, its full real specifications are now revealed.
It is based on Windows Mobile Professional 6.1, personalized with the TouchWiz interface we have seen in the F480 back in February. It will add widgets to the homescreen, but we are not sure if there will be changes in the rest of the WM interface. The OMNIA specifications are of a high-class model and Samsung will try to position it both, as high-end all-in-one smartphone and a multimedia-friendly phone with user-friendly interface, rival of the iPhone (3G) and HTC Touch Diamond.
Samsung OMNIA i900 is a quad-band GSM with support for HSDPA 7.2 Mbps and WiFi, for usage when out of European 3G network coverage. Similar to other new offerings, it has brushed metal look and slim profile (0.5" / 12.5mm). Other features include accelerometer for auto-rotation of the display orientation and "optical mouse" (as in the i780), which is similar to a laptop's touchpad.
OMNIA will be first available in the Southeast Asian market before June 20th, and in Europe from July. Pricing information is not announced, but you should expect it to be similar to the Touch Diamond.
source: Samsung