Samsung adds a twist of social integration to UK's 2011 census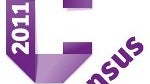 2011 is the year of the all-Europeancensus, but if you're in the UK, you can join with something morethan just your personal data and get your most important personalmoment counted as well. Samsung launches the Social Censusinitiative, in which people can submit photos of moments representingtheir present on Facebook.
What makes this initiative slightlydifferent than your regular Facebook group/page is that the top 100photos from the initiative called the "Now Project" willbe displayed in the London Design Museum for one night only onThursday March 24th.
Samsung claims that the idea wasinspired by the photographic capabilities of the Samsung Wave II,which also allows quick editing and uploading of photos. And somecelebrities will participate as well, such as TV presenter TimLovejoy with a photo of him snowboarding in Whistler, Canada.
source: Samsung