Samsung Restore is a new eco-phone for Sprint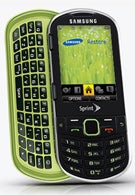 Sprint seems to truly care about its environment-friendly image, as it has just announced yet another eco-centric phone, the Samsung Restore. This new handset will be available this summer at a price of $49.99 after a $50 mail-in rebate and a two-year contract.
The Samsung Restore will try to restore the environmental balance with its 84% recyclable self, 100% recyclable packaging of cardboard, printed with soy ink. In addition, there will be no user manual (it will be accessible online, and the Restore will come with an energy-efficient charger. On software level, the Samsung Restore will keep you eco-cautious through interesting information and tips that will appear in the One Click Green tile.
Its hardware feature set is decent and includes a side-sliding full QWERTY keyboard, 2MP camera, Stereo Bluetooth and microSD card slot.
We are very pleased to see more and more green phones arrive at the scene and hope that this tendency will continue.
And now, we have a small quiz for you. Now that we've been treated to the Samsung Reclaim and Restore, how do you think will the next eco-friendly Samsung phone be called:
a) Samsung Return
b) Samsung Resume
c) Samsung Revive
We'll see which one is the correct answer probably in a few months. The winner gets a pat on the back!
source:
Sprint