Samsung, RIM both sued for violating patent on emoticons
13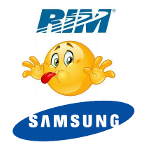 Once again, Samsung is being accused of infringing on a patent. The difference is that
it is not Apple at the opposite table in the courtroom
, but a
company called Varia Holdings
. And instead of a patent case involving important technology that goes right to the heart of Android, Varia is alleging that Samsung and fellow handset manufacturer RIM violated
a patent involving emoticons
.
"concept of allowing users to choose emoticons from a menu of options rather than typing them out one character at a time
." It seems like such an obvious idea in retrospect. Varia claims that the phones infringing on its patent include the Samsung Acclaim, Google Nexus S, Samsung Captivate, Samsung Epic 4G, Samsung GALAXY Nexus and the Samsung Transform. Those smartphones
allow users to select emoticons from a pop-up menu
, violating the patent according to Varia. BlackBerry models that Varia claims are infringing on its patent are the BlackBerry Bold, BlackBerry Curve, BlackBerry Pearl, and the BlackBerry Storm.
The patent was filed in late 2005 and was granted to Seattle start-up firm Wildseed in early 2007 The latter
was acquired by AOL and spun off as Varia Mobile
which took the emoticon patent with it. Interestingly, while Varia Mobile seems to own the patent, it is Varia Holdings that is the plaintiff in the case. Obviously, both firms are connected. By the way, the actual title of the patent is "Emoticon input method and apparatus" and is number 7,167,731.
How the court will rule is hard to predict. On its face, the idea of protecting the concept of choosing emoticons from a menu instead of typing them out character by character
seems a little absurd
. On the other hand, Samsung and RIM still have to take this seriously because huge sums of money could end up involved here, especially when you look at the number of different handsets cited in the filing. Emoticons have been the subject of patents before. Back in 2006, AT&T (then Cingular)
filed an application for a patent that would cover 35 claims relating to emoticons
. Among the claims was a method of selecting "smileys" using a dedicated key. The selected emoticon can be inserted into a text message, email or IM.
source:
arstechnica