Samsung Galaxy TabPro S arrives in the U.S. tomorrow starting at $900
31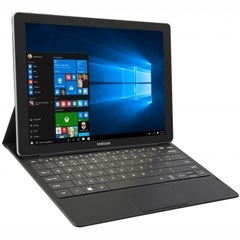 With so many new devices having been announced over the last couple of weeks, you may already have forgotten about Samsung's
Galaxy TabPro S
. Unveiled way back at the Consumer Electronics Show in early January, it has been touted as the Korean firm's answer to the
Microsoft Surface Pro 4
. Packed with a reasonably strong assortment of tech. specs, it has taken a while for the TabPro S to reach the U.S. market. As of Friday, though, Stateside consumers will be able to get their hands on the slab at a cost just shy of $900.
While Samsung has churned out many a powerful tablet in recent times, the TabPro S breaks from the traditional mold of running Google's Android. Shipping with Windows 10, its overall profile is not too dissimilar to the Surface Pro roster. It ships with a detachable keyboard and can free-stand to behave like a notebook when required. There will also be a stylus available for the slate, but it won't begin shipping until later on this year.
Though it's quite pricey at $899.99, you do get a fair amount of bang for your considerable buck. There's a 12-inch, 2160 x 1440 display -- Super AMOLED, no less. Under the hood sits Intel's 6th-gen 14nm Intel Core M chipset clocked at 2.2 GHz, allied to 4 gigs of RAM. The $900 asking price arrives with 128 GB of solid-state storage, though a 256 GB option is available at additional cost.
There's a 5200 mAh battery to keep things ticking over, and a 5-megapixel shooter on both the front and back of the device. Having already made its way to several locations throughout Europe, the Galaxy TabPro S will reach the United States tomorrow. Interested parties will be able to purchase through either Microsoft or Samsung, as well as Best Buy.
Will you be snapping up the TabPro S, though? Let us know if it's on your shopping list by dropping us a comment below.