Samsung Galaxy Tab 2 (7.0): is this the Kindle Fire killer?
12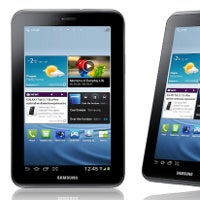 The Nexus tablet. The Google tablet. The Kindle Fire killer. The cheap, but good tablet. Which one are you really looking forward to? Since the Kindle Fire launched, we're waiting for an affordable tablet that will be just a bit better than the Fire to open the doors for first-time tablet adventurers and let us recommend it wholeheartedly.
Here's our list of modest requirements:
- it's supposed to be affordable, not more than $250,
- it should run the latest Android ICS,
- we expect a dual-core processor,
- simpler, we expect no lag no matter what the processor,
- cameras for video chat would be welcome,
- we need more storage than on the Fire.
Up until now, the rumored Google Nexus tablet (or whatever Google calls it) was supposed to bring this dream to reality. Affordable and fully functional. These are the key words for the Google tablet.
But while the search giant supposedly delayed it until later in the summer, Samsung did not and is now bringing its own affordable solution on April 22nd. It's not made with Google's direct input, but it matches all our requirements. It's
the Samsung Galaxy Tab 2 (7.0) – a $250 Android tablet
.
It feels non-plasticky, more solid than the Fire and kills it in every hardware department you'd imagine. Plus, you need to pay a mere $50 more to get it.
Here are the spec highlights of the Samsung Galaxy Tab 2 (7.0):
- 7" 1024x600 pixels PLS LCD display
- 1GHz dual-core processor paired with 1GB of RAM
- 3MP rear camera supporting 720p video, VGA front camera
- 8GB internal memory, expandable via microSD cards
- extremely light, only 12.1 ounces (344g)
- Wi-Fi-only
The Galaxy Tab 2 (7.0) might have specs that wouldn't impress if it was priced at $400 or more, but it is quite unique among its $250 peers. The competition will surely respond – Google with its upcoming tablet, and Amazon with its rumored Kindle Fire successor in the summer. But for the time being, Samsung has the head start. Now, let us know - is this your next tablet? What's your dream list for an affordable tablet?
source: Samsung