Samsung Galaxy S7 goes official with performance boost and promising new camera
45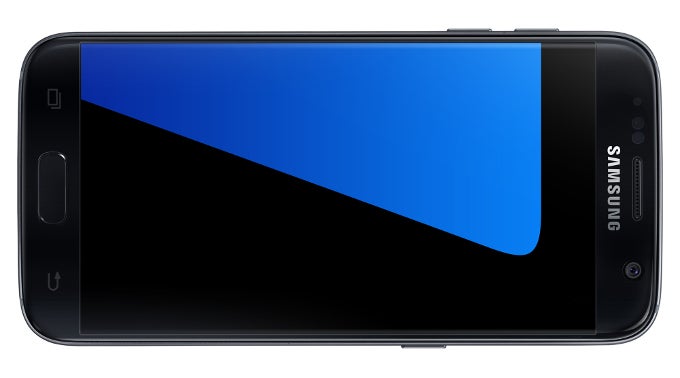 The Samsung Galaxy S7 has finally broken cover!
...and it's no surprise for those who were following the countless leaks and rumors : the Galaxy S7 does indeed have a 5.1-inch Quad HD AMOLED screen, Qualcomm's most powerful Snapdragon 820 system chip under the hood and a brand new 12-megapixel camera with low light superpowers. And yes, the microSD card slot is back: you can use a card of up to 200GB onf the S7.
Snapdragon 820, microSD and large battery
Luckily, the Galaxy S7 does also come with a larger-than-before, 3,000mAh battery.
The design of the S7 is rather incremental: in fact, not much has changed from the S6: the two look nearly identical, but up close you notice how the phone is curved towards its edges for a more comfortable in-hand fit.
Then, there are the extra features: IP68 certification means that the phone is water and dust resistant, so you don't need to worry if you spill some water on it.
Here is a quick look at the most important specs of the Galaxy S7:
Samsung
Galaxy S7
Platform
Android 6 Marshmallow
Dimensions
142.4 x 69.6 x 7.9mm, 152g weight
Display
5.1" QHD Super AMOLED (1440 x 2560)
SoC
Snapdragon 820
RAM
4 GB LPDDR4
Cameras
12MP rear cam with Dual Pixel, OIS, f/1.7 lens
5MP front cam, f/1.7
Storage
32 GB
with microSD support
Battery
3000 mAh
Extra features
IP68 water resistance, Wireless charging
Camera

The new 12-megapixel camera on the Galaxy S7 brings a few important improvements, all helping one single purpose: better low light images.


New 12MP camera captures 95% more light, first Dual Pixel sensor
For Samsung, it is now time to look beyond megapixels: the S7 drops to a 12MP camera (down from 12MP on the S6), but what this does is that individual pixels are now larger, and this brings the advantage of better low light performance. Then, there is the wider, f/1.7 lens (widest ever on a phone) that further helps with light collection. The two combined together allow the new camera in the S7 to capture 95% more light than the S6. Finally, the camera also features optical image stabilziation (OIS), which helps the camera shoot faster, resulting in less blurry images.

Another curious detail is the added support for Dual Pixels. A first in the smartphone world, Dual Pixel is a technology borrowed from dedicated cameras that allows for faster focusing by combining information from two pixels on the camera sensor.

Quite nicely, the 5-megapixel front camera also features an f/1.7 wide-aperture lens.



Always-on Display

Another great trick that Samsung has pulled with the S7 display is Always-on Display. What this does is show you basic information like the time, calendar or notifications, without you having to wake up the phone. And since the S7 Edge has an AMOLED display, only a few pixels light up to show this information, so the battery drain from having Always-on Display is minimal. Additionally, the feature will turn off when you put the phone in your pocket.


Snapdragon 820
30% faster CPU, 60% better graphics
The S7 model will go on sale in the United States with the Snapdragon 820 system chip, Qualcomm's latest and most powerful chip. The processor brings a 30% improvement in CPU performance and up to 60% boost in GPU performance.


Price and release date (limited time bonus: Gear VR!)

Just as expected, the Samsung Galaxy S7 will go on pre-order at 8am EST on February 23rd, while the official release date is set for March 11th.

If you pre-order between February 23rd and March 18th, Samsung is also throwing in a bonus Gear VR headset ($100 value) and a 6-game bundle for VR worth $50.

The S7 will be available on all major US carriers: AT&T, Verizon Wireless, Sprint, T-Mobile and US Cellular, and it will also be sold in Samsung Experience Shops in Best Buy, Car Toys, Sam's Club, Target and Walmart.

Lastly, Samsung Experience Shops in Best Buy will have the phone for users to take a first look on February 24th, while carriers will have the phone for users to experience starting February 26th.







source: Samsung