Samsung Galaxy S6 vs iPhone 6 blind camera comparison: vote for the better phone
99+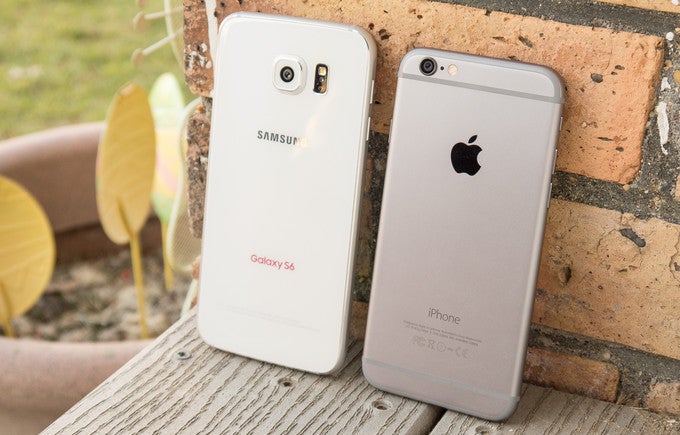 It has been a long while since our last blind camera comparison, hasn't it?
Back in April
, it was the
Samsung Galaxy S6 edge
, the
iPhone 6
, the
HTC One M9
, and the
Galaxy Note 4
competing against each other – a race that ultimately ended up dominated by Samsung's curvy handset. It was a competition that Galaxy S6 edge didn't just win. It single-handedly acquired more reader votes than all of its rivals combined. Today's comparison, however, is going to be a little bit different. Instead of featuring a whole bunch of phones, we've chosen to do a one-on-one blind shootout between two phones well-known for their awesome cameras. These are the Samsung Galaxy S6 and the iPhone 6.
Below you'll find six scenes captured with the Galaxy S6 and the iPhone 6 under identical conditions – same time of the day, same distance from whatever was being photographed. Both phones had their cameras set to their automatic modes, with their LED flashes and HDR modes disabled. But we couldn't include full-resolution images in a blind comparison as that would have revealed which phone captured each individual image. That's why we cropped the photos to the same aspect ratio after the shootout and scaled them down to the same resolution. Then we shuffled them around.
All we ask from you now is to take a good look at the photos below and vote for the ones you like better. Simple, isn't it? And to make it easier for you to judge the quality of the images, we've included side-by-side previews which you can click and explore. Also, the slideshow galleries for each scene contain up to three close-up crops and a high-resolution version of each image. With this out of the way, let the voting begin!
Scene 1: A walk in the park
We'll start this comparison with a scenery captured in the park on a summer afternoon. Warm sunlight was illuminating the colorful garden while shadows from the nearby trees were cast over the pathway. Zooming in on the images reveals how well the two cameras capture details in farther objects.

Side-by-side comparison
Scene 2: The ruins
These are the remains of an old public bath complex, dating back from the days when the Roman empire was in its prime. The images contain plenty of fine details, and their color tone hints at how well the two cameras handle white balance.

Side-by-side comparison
Scene 3: A colorful close-up
Hemerocallis fulva, also known as а daylilу, is loved and grown for its attractive flowers. Here's a couple of them, presented in a bright, colorful close-up shot. One of the two phones has obviously gone for a more contrasty look, while the other has preserved more detail in shadowy areas.

Side-by-side comparison
Scene 4: Flowers
Here's another image demonstrating how well the two cameras handle bright, intensive colors. Differences in amount of sharpness added are easily noticeable when you take a closer look.

Side-by-side comparison
Scene 5: Battleship ready
This torpedo boat, now over 100 years old, has long served its duty. Taking a closer look reveals how much detail the two cameras preserve and how much it is sharpened. Slight differences in white balance are also noticeable.

Side-by-side comparison
Scene 6: Chill out
After a long, tiring day, it is time to kick back and chill out. Here's a couple of shots taken in the low-light setting of a cocktail bar. The photos demonstrate how well the cameras capture light and how good of a photo they can take when it is scarce.

Side-by-side comparison