Samsung Galaxy S III: S Voice feature demo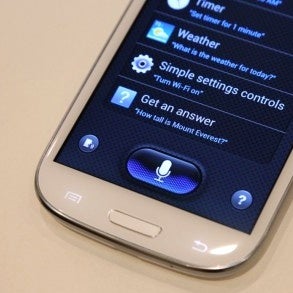 The Samsung Galaxy S III comes with not just one, but many new little software additions that combined together make a difference. One that stands out among them is
S Voice
, a Siri-like service, that allows you to use your phone as a personal assistant you can speak to. It uses natural language processing, so you don't have to shout out automated commands - it will understand your natural sentence.
What can you do with it? Well, think about Siri and you'd have a good idea about the functionality of S Voice. Something different is the ability to wake up your phone by just saying "Hi, Galaxy," or "Hi, buddy," or actually whatever you pick in S Voice.
Other possible scenarios include:
- going directly to an app like the camera by saying things like "I want to take a picture,"
- put an alarm to "Snooze" after it rings,
- play music, skip and pause tracks,
- set a timer,
- look up the weather,
- control settings. For example, you can turn Wi-Fi on or off with your voice.
FEATURED VIDEO
Finally, you can also use S Voice and ask it to look up things online, so at first sight it seems like a pretty capable competitor to Apple's Siri, and a great service on its own. We've got a live demo straight out of London below, so check it out ot see S Voice in action and let us know - are you going to use it?