Samsung Galaxy S II Skyrocket hands-on
34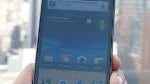 Well, it certainly must ache to be an early adopter of AT&T's Samsung Galaxy S II – that's because
AT&T recently announced the Samsung Galaxy S II Skyrocket
. Along with the HTC Vivid, the AT&T bound
Samsung Galaxy S II Skyrocket
is going to kick things off for the carrier because it's one of their first smartphones to offer 4G LTE connectivity. Launching nationwide starting on
November 6th
, this handset will undoubtedly catch the attention of customers who happen to be in an area that has AT&T's 4G LTE coverage, especially with its
$249.99
on-contract price.
Honestly, it's almost difficult to point out the difference between the Skyrocket and AT&T's Samsung Galaxy S II – since they're
nearly identical
. In fact, one of the most impressive things about this smartphone is that it's barely increased in overall size, which is amazing considering that this is a 4G LTE smartphone we're talking about. Its overall size remains to be the same, as well as its plastic construction, but rather than finding some sort soft touch or patterned back cover, it's simply packing a flimsy plastic one. Nonetheless, it's one likable smartphone mainly because it's svelte appearance and light weight – without compromising on size.
Again, the handset features the same
4.52" WVGA Super AMOLED Plus
display as before, which is alluring thanks to its vibrant color tones and high-contrast. However, its resolution is hardly going to attract the attention of some people, but nevertheless, it's more than sufficient in making out text. Strangely,
gone
is the dual-core Exynos processor from before, and instead, the Samsung Galaxy S II Skyrocket is powered by a
1.5GHz dual-core Qualcomm Snapdragon APQ8060 processor
with 1GB of RAM. Surely some will be saddened by the change, but in our quick look at the TouchWiz UI running on top of Android 2.3.5 Gingerbread, it exhibits a fluid response with its operation. Lastly, the handset features an 8-megapixel auto-focus camera with LED flash, which dishes up 1080p video recording at 30 frames per second.
Unless you're in an area with 4G LTE connectivity, there isn't much to miss out on with this guy – since it's relatively close to the AT&T Samsung Galaxy S II on the outside. For the $50 separating the two, it'll obviously prove most beneficial to those living in places fortunate to have the coverage. However, we're curious to know how its
1,850 mAh
battery will stack up once it's fully tested by AT&T's new LTE network.