Samsung Galaxy S Blaze 4G to be another 42Mbps handset for T-Mobile
17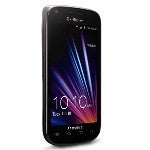 UPDATE:
And it's official! T-Mobile has confirmed the existence of the
Samsung Galaxy S Blaze 4G
and pretty much all that we knew about it. Unfortunately, we can't add a release date yet, but we do know that the processor will be clocked at 1.5 GHz, while the display will be a Super AMOLED one. Stay tuned for more details about this handset!
T-Mobile doesn't really have a clear LTE strategy yet, but its HSPA+ rollout keeps getting faster and faster, even hitting the 42Mbps (theoretical) speeds in some markets. Unfortunately, there aren't too many handsets that can take advantage of those speeds.
A new report has the Samsung Galaxy S Blaze 4G becoming just the 3rd device with a radio rated for 42Mbps. There still isn't a lot of news about the Blaze. We do know that it will be a T-Mobile device (obviously), and word has it that it will also feature a dual-core Snapdragon processor and knowing Samsung, it will likely also have a Super AMOLED screen.
The Samsung Galaxy S Blaze 4G is due out sometime this year. Even though we don't have a lot of info, it's interesting to see a device that would seem to fit in the mid-range for phones coming with 42Mbps support. It's good to see that not just the top tier is getting the speed. More details are expected soon.