Samsung Galaxy S 4 has Qi wireless charging, but it's up to the carrier to offer it
14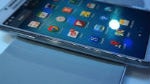 It wasn't mentioned in the official announcement by Samsung, and it also wasn't in the teardown of the hardware that leaked just before the official launch event, but it turns out that the Samsung Galaxy S 4 will offer Qi standard wireless charging. The bad news is that it will be up to the carrier to offer it in the model that is sold.
The wireless charging pad wasn't shown in the announcement, but was part of the demonstration unit setups afterwards. The charging pad itself apparently is made with a glossy plastic base that matches the phone, but it has a rubbery gray top that keeps the handset from sliding around while charging.
No word on the price of the charging pad or if it will be available at launch. Also, no word on which carriers will be offering the model that supports wireless charging.