Samsung Galaxy Note5 camera: Quick comparison against the Note 4, S6, and iPhone 6 Plus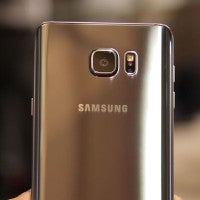 Why mess with a good thing, right? When you've garnered positive remarks from almost everyone in the industry, it makes perfect sense to try and replicate that particular again with another product. That's exactly what Samsung is doing with its latest phablet, the Galaxy Note5! By now, we've intimately spent a great deal of time using the incredible cameras found in its Galaxy S6 line. From the its flagship S6, to the stylish S6
edge
, and the impervious S6 Active, they've all shown us that they're all capable of achieving incredible quality with their cameras.
For the Note5, Samsung is sticking to the recipe it's used already and reintroduces a 16-megapixel rear camera – one that's accompanied with optical image stabilization and a wide f/1.9 aperture lens. This particular setup has established itself to be extremely fruitful, as its S6 siblings capture amazing photos in all sorts of scenarios. The same should be expected with the Note5, as well as the S6 edge+, right?
After Sammy's announcement in New York, we managed to quickly snap a few samples from the Note5 to show what it's capable of delivering. We won't go into the specifics right now, since we'll leave that judgment for you – more so when we're dealing with a pre-production unit here. In this quick comparison, we're pitting it against the Galaxy S6, Note 4, and the
iPhone 6 Plus
. All are known for their camera quality prowess, but it'll be interesting to see if there are any differences with the Note5 to propel it to an even higher level. What do you think?
Samsung Galaxy Note 5 quick camera comparison