Samsung Galaxy Note for T-Mobile is announced officially, coming in a few weeks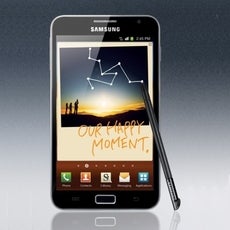 After all the
leaks and rumors
,
the Samsung Galaxy Note for T-Mobile has been officially announced
by the carrier itself. Phablet fans who are interested will be able to grab one within a few weeks, either online or at select T-Mobile locations throughout the U.S.
In terms of hardware, the
Samsung Galaxy Note
for T-Mobile is not much different from the AT&T model. Inside it hums a dual-core Snapdragon S3 processor clocked at 1.5GHz, and its
5.3
-inch Super AMOLED HD display has a resolution of 1280 by 800 pixels. On its back we have an 8-megapixel camera and a 2-megapixel shooter for video chats is located on its front. Not to be forgotten is the S Pen capacitive stylus, which is ideal for taking notes on the fly. We have to point out, however, that while the AT&T Galaxy Note supports LTE, the T-Mobile variant relies on 42Mbps HSPA+ connectivity.
On the software side, it is nice to see that the T-Mobile Samsung Galaxy Note comes with Android 4.0 Ice Cream Sandwich out of the box, with all Premium Suite goodies pre-installed. That includes the S Note and S Memo applications, which get along really well with the S Pen.
So there you go, folks! Most of the spicy details about the Samsung Galaxy Note for T-Mobile have been unveiled. The only thing missing from the equation is pricing, but we expect to know more on the matter sooner than later.
source: T-Mobile
T-Mobile Expands Its Galaxy Lineup With the Samsung Galaxy Note
Smartphone Delivers Innovative All-in-One Experience With the Perfect Blend of Work and Play Features
BELLEVUE, Wash., - July 17, 201
2 - T-Mobile USA, Inc., the No. 1 mobile operator brand in Samsung Galaxy S(tm) sales, and Samsung Telecommunications America (Samsung Mobile), the No. 1 mobile phone provider in the U.S. and the No. 1 smartphone provider worldwide, today announced the upcoming availability of the Samsung GalaxyNote(tm). One of T-Mobile's fastest devices leveraging its 4G (HSPA+ 42) network and running on Android(tm) 4.0 Ice Cream Sandwich and Samsung's Premium Suite, theGalaxy Note provides an innovative, all-in-one experience that is perfect for work, play and everything in between.
Consumers are demanding larger smartphone screen sizes. In fact, a recent T-Mobile survey showed 77 percent of consumers prefer a device with a 4.5-inch or largerdisplay rather than a smaller screen. The Galaxy Note speaks directly to that demand with a 5.3-inch HD Super AMOLED(tm) touch screen - the largest screen on aT-Mobile(r) smartphone. The device is elegantly designed to handle both business and home tasks with ease.
The Galaxy Note with Premium Suite provides a range of productivity-enhancing features, such as the S Pen(tm), S Note, S Memo(tm) and Polaris Office. Now T-Mobilecustomers can write notes, to-do lists and annotate documents; share ideas and edited content; and create documents, presentations and spreadsheets to maximizeefficiency while on the go. S Note helps to professionalize communications by providing templates for seven commonly used documents such as an idea note, travelnotes, diary entry, meeting notes and recipes. S Note also allows you to import and annotate a PDF file and convert dictated or handwritten memos to text with theContinual Voice Input and Handwriting-to-Text features. With S Memo, Galaxy Note users have one-touch access to creating a typewritten, handwritten or voice dictatedmemo; researching information during creation; and adding an image.
The Galaxy Note also has the SAFE (Samsung Approved for Enterprise(tm)) designation, which means it has a full suite of enterprise-ready features and capabilities,including comprehensive IT policy support for top-tier mobile device management (MDM) providers, on-device AES256-bit encryption, enhanced support for MicrosoftExchange, as well as integrated support for a range of virtual private network (VPN) solutions. The Galaxy Note also provides Wi-Fi Calling capabilities and, with aqualifying rate plan, can act as a Smartphone Mobile HotSpot for up to five devices.
"In addition to larger screens, today customers demand more from their devices - from having safeguarded access to corporate email and other productivity features tobeing able to rely on a speedy network for streaming content," said Andrew Morrison, vice president, product management, T-Mobile USA. "With the unique and highlyinnovative Galaxy Note in our lineup, we are even better equipped to help our customers strike the perfect balance as they juggle both professional and personalactivities."
The Samsung Galaxy Note also offers the T-Mobile 4G Pro App Pack, an aggregation of key applications, such as Dropbox, Evernote, Square, TripIt, CamScanner andLinkedIn, that can reduce the complexity and effort associated with finding and downloading business-related applications. By providing an easy path to cloudservices such as Dropbox and Evernote, T-Mobile helps professionals easily store and access the documents, files, images and notes that will help them better managetheir work from virtually anywhere.
Featuring a snappy Qualcomm(r) Snapdragon(tm) S3 Processor with 1.5 Ghz Dual-Core CPUs, the Galaxy Note provides customers with incredible 4G experiences, making itthe perfect all-in-one device to maximize efficiency and productivity, in addition to fun. The Galaxy Note offers a variety of entertainment experiences, such asT-Mobile TV in mobile HD3 for watching live TV programming, Samsung Media Hub for renting and buying the latest movies and TV shows, and Google Play Music forstreaming and purchasing music. The Galaxy Note also features an 8-megapixel rear camera and a 2-megapixel front-facing camera, to capture pictures and HD videos toshare with friends, family and social networks.
Availability
The Samsung Galaxy Note is expected to be available at select T-Mobile retail stores and online via www.T-Mobile.com in the coming weeks.