Samsung Galaxy Note 9 vs Sony Xperia XZ2 Premium: The $1000 Android juggernauts
40
Sony put out its big guns earlier this year with a pair of flagships meant to bring back the company to its former glories. The beefier one of the two, the Xperia XZ2 Premium, packs a wallop with its focus on being a multimedia-centric device with its camera capturing abilities, one-of-a-kind 4K HDR-enabled display, and a refreshing new premium design. Meanwhile, the just-announced Samsung Galaxy Note 9 is gunning to show us all why it's arguably the king of the hill in the flagship space. When pricing is at a premium with those two juggernauts, which one should you put your money into?
Design
Departing from the brand's customary design language, the Xperia XZ2 Premium does manage to forge its own identity with its top-notch construction – one that leverages the trendy glass-meets-metal design that has become standard amongst today's flagships. While we applaud Sony's efforts, Samsung continues to school everyone in why they're masterful at engineering smartphones. Yes, both phones are a handful, but the Xperia XZ2 Premium is just notoriously bulky and slippery – in comparison to the svelte chassis of the Note 9.
Even more impressive, the Note 9 doesn't make any compromises to its design while continuing to be a specs monster. For one, Samsung is able to incorporate a 3.5mm headphone jack and a slot for the S Pen – all without adding any more bulk to its package. The headphone jack is particularly important, just because Samsung continues to offer what other phones, the XZ2 Premium included, have axed out entirely. At the end of the day, both smartphones look gorgeous, but it's just astounding how the Note 9 is able to cram so much into its design!
Display
Things get really interesting as we pay attention to their displays. Samsung takes the approach of employing that all-screen look with its 6.4-inch 1440 x 2960 Super AMOLED display with an aspect ratio of 18.5:9. Complementing the package are the subtle dual-curved edges and skinny bezels, which of course adds to its gorgeous looks. Conversely, though, the Xperia XZ2 Premium leverages a 5.8-inch 4K (2160 x 3840) HDR IPS LCD Display with a 16:9 screen-aspect-ratio. We'll certainly say that the 4K display has some remarkable qualities, like its incredible detail and vibrant colors when 4K HDR videos are played on YouTube, but the Note 9 still manages to deliver an equally hypnotic presentation with its Super AMOLED panel, also capable of HDR video playback.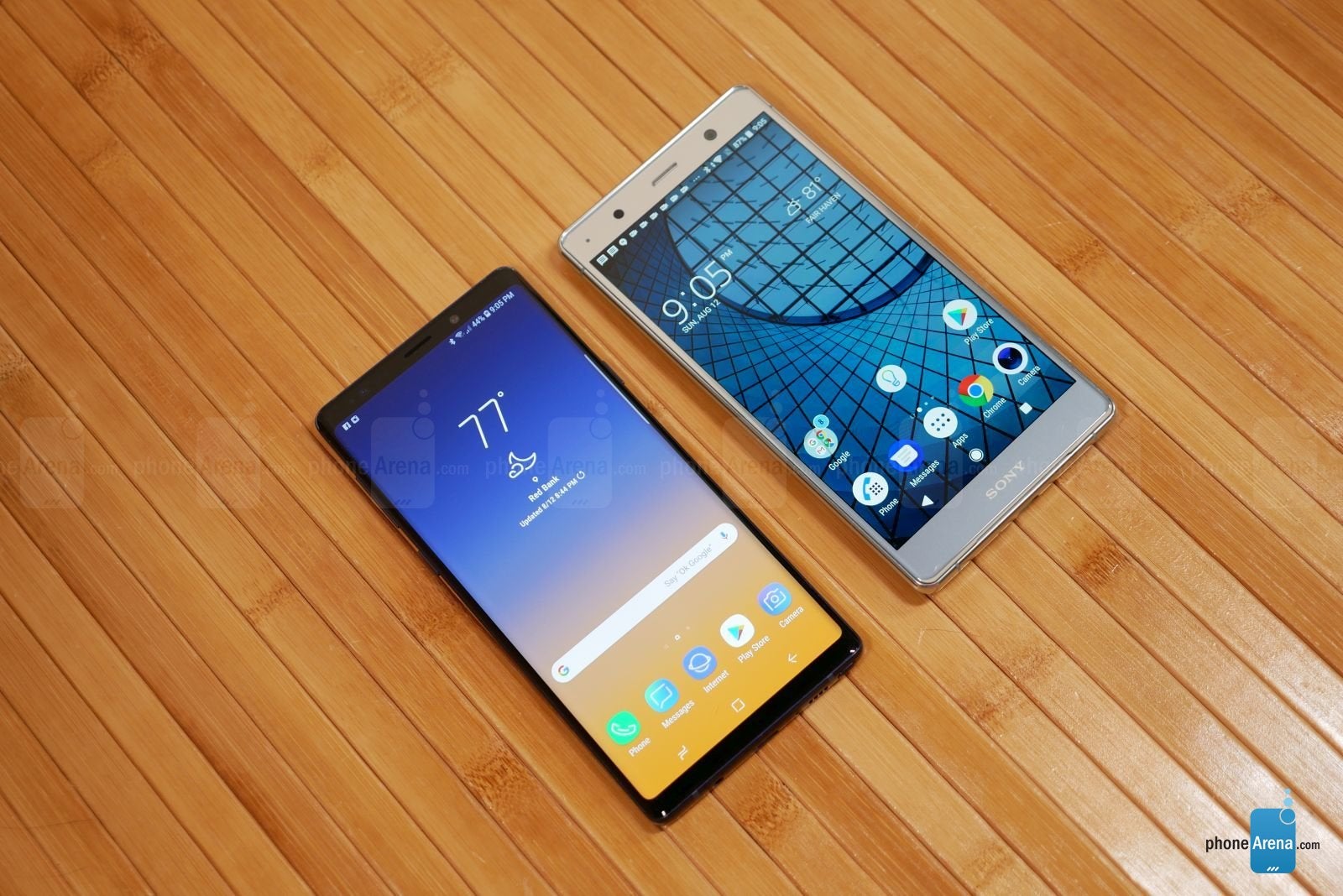 User Interface
Being Android-powered smartphones, they have the basics down to the teeth, despite having totally different looking interfaces. It's a personal preference when it comes to the visuals, however, it's the Note 9 that goes the distance by offering a richer, more diverse overall experience. Samsung's latest experience offers several noteworthy features that are absent with the Xperia XZ2 Premium. From its extensive S Pen functions, access to the DeX desktop-like experience using a standard HDMI adapter, Samsung Pay, and enhanced Bixby service, it shows how Samsung continues to perfect its experience to deliver an all-encompassing package.
Performance
So far from our cursory look, these two flagships exhibit smooth and instantaneous responses when it comes to basic tasks. With the two of them leveraging the same chipset, the Qualcomm Snapdragon 845, the two are pretty much evenly matched in many areas – including gaming, but we're eager to see if there's any significant boost with the Note 9 and its new water carbon cooling system. It's worth pointing out, too, that the international version of the Note 9 will be leveraging Samsung's Exynos chipset.

In terms of storage, Samsung offers the more generous tally of 128GB with the base model of the Note 9 – in comparison to only 64GB of internal storage with the XZ2 Premium. Having double the storage right off the bat is a huge advantage, even though there's room for expansion with both courtesy of their microSD card slots.
Camera
Things get even juicier when we take a peek at their cameras, both of which go for the dual-camera implementation. With the Sony Xperia XZ2 Premium, it packs a main 19MP f/1.8 camera that captures color, while the second 12MP f/1.6 one records a monochrome image. Meanwhile, the Note 9 goes with a main, wide-angle 12MP shooter with OIS and a variable aperture camera that shoots at f/2.4 when you have good light, but opens wide to f/1.5 at night. The secondary camera is a telephoto one, with a 2x times zoom and optical image stabilization for steadier photos.

What makes them compelling over other implementations is the fact that they're stressing low-light performance. The Note 9's variable aperture is indicative of that, as is the XZ2 Premium's ability to shoot at up to ISO 51200 for photos and up to ISO 12800 for videos. On top of that, they're heavily invested in the video recording department, since not only can they shoot video in 4K resolution, but they also offer their own super slow-motion modes. However, we should mention that the XZ2 Premium can shoot at 960 FPS in 1080p – versus only 720p for the Note 9 at the same frame rate, but only for half the duration.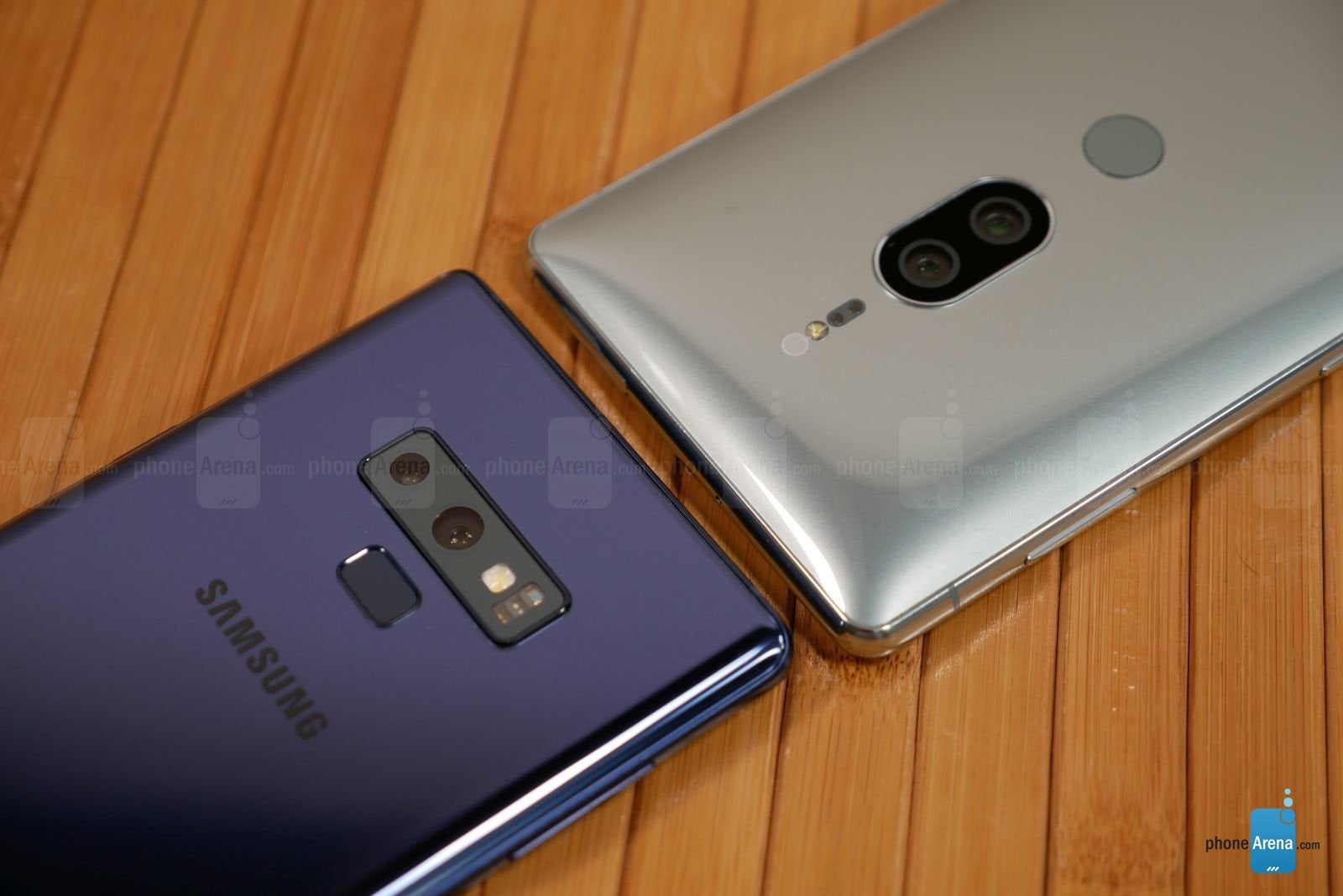 Battery
Even with the skinnier chassis, the Note 9 manages to pack the larger capacity 4000 mAh battery cell. That's particularly impressive because the Xperia XZ2 Premium, despite its thicker body, is only able to cram a 3540 mAh one. Considering that the Note 9 has a larger battery and a lower resolution screen, it undoubtedly gives us confidence that it's going to outlast the XZ2 Premium when it comes to battery life. And finally, these two smartphones offer the convenience of wireless charging, which cements their stature of being true flagship devices in the space.

Expectations
Okay, these are two of the most expensive Android smartphones around – so you'll need to assess the two meticulously to find out what's right for you. Then again, there's more of an argument to go with the Note 9 for all the obvious reasons. From its sleeker design, vast productivity features, and just being an engineering masterpiece, everything points to it as being the phone with more bang for the buck. And oh yeah, did we mention that it also includes a 3.5mm headphone jack, the S Pen, beefier battery, and double the starting storage capacity?

Still, you can't count out the Sony Xperia XZ2 Premium, just because it tucks away a few of its own notable features. For one, it's one of the few smartphones around to feature a 4K display, a camera that can shoot in almost complete darkness, and the ability to shoot video at the silky frame rate of 960 FPS in 1080p. Those may be enough to win over people to its package over the Note 9! It's a tough call to make until they're put through a proper comparison, so we're eager to do just that very soon!
Knowing what's on the table right now, which one would you spend your hard-earned money on?