Samsung Galaxy Note 8.0 benchmark scores here: testing the Exynos 4412
27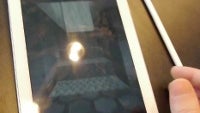 The
Samsung Galaxy Note 8.0
is probably the most exciting tablet to come out of MWC - it is a direct iPad mini competitor expected to retail for around the same price of Apple's tablet but with an S Pen functionality and a bit more hardware muscle than the two-year old A5 chip Apple opted for.
In the Galaxy Note 8.0 we have an 8-inch 1,280 x 800-pixel IPS display powered by the Exynos 4412, the same chip that powered last year's Galaxy S III and definitely a great processor on its own. The clock speed is set at 1.6GHz for each of the four cores. The graphical unit is ARM's Mali 400, which we found on the Note 10.1. There is also 2GB of RAM memory. And now we get to see the first benchmark scores from the device.
We ran Quadrant Standard Edition on the pre-release unit of the Note 8.0 we saw on the showroom floor and got a pretty decent (but not stellar in any way) score of 6,995. Take a look at our quick hands on to see how the device performed.