Samsung Galaxy Note 4 (N910) to have a 5.7-inch Quad HD display
61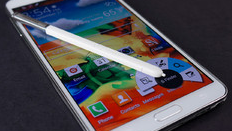 It looks like Samsung's upcoming
Galaxy Note 4
(expected to be introduced in the second half of the year) will have the same display size as least year's
Galaxy Note 3
(pictured on the left) - which is widely regarded as one of the best extra-large handsets in recent history.
According to GSM Arena, the new Galaxy Note 4 will sport a 5.7-inch display. However, unlike the older Note 3, which features a 5.7-inch screen with 1,080 x 1,920 pixels, the next-generation Note will offer a Quad HD (1,440 x 2,560) pixel resolution. Of course, it's
not the first time
we hear about this.
Reportedly, GSM Arena's sources confirmed that the Galaxy Note 4 has the model number
SM-N910
, and is codenamed Muscat. We're assuming that the codename was chosen from the Muscat variety of grapes (and sweet wines), not from Muscat, the capital of Oman.
Anyway, before announcing the Galaxy Note 4, Samsung will likely introduce the
Galaxy S5 Prime
(SM-G906). As mentioned many times before, the S5 Prime, allegedly codenamed Lentis, should have a 5.2-inch Quad HD screen.
A
Galaxy S5 Mini
(SM-G800) is also expected to come soon, sporting a 4.5-inch display with 720 x 1280 pixels.
Back to the Note 4, let us know if you're happy seeing that its screen size will (probably) not be increased.