Samsung Galaxy Note 2 with a 5.5-inch screen to be announced late August?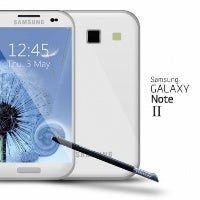 The Samsung Galaxy Note is probably a great illustration of swimming against the tide - while screen sizes were rapidly growing last year, the huge leap to a
5.3
-inch display left everyone surprised, with many writing off the Note as a niche device. To a certain extent we still think it is, but look at those 7 million Notes Samsung has already sold, and it no longer looks that niche.
For those of you who like the original device, good news is that the Korean company is said to be bringing the
Samsung Galaxy Note 2
in just over a month at the IFA show in Berlin in late August.
"Samsung will unveil the Galaxy Note 2 during the IFA 2012, a consumer electronics show held in Berlin, Germany in late-August,"
said a source familiar with the matter.
"The new model will definitely come with a 5.5 in. display, but it is unclear as to what other features will be included."


This means the new Note will come with a screen 0.2 inches larger than the previous one while retaining the dimensions. Earlier we heard that the Galaxy Note 2 will feature a 12-megapixel shooter and a quad-core processor.
Unlike the original Note which is still waiting for its Gingerbread update, its sequel will actually come with the latest of Android, Jelly Bean, from the get go.
"There are also talks of improving the camera resolution to 12.0 or 13.0 megapixels, up from current 8.0 megapixels, but this may be changed depending on other factors. It will not, however, showcase the unbreakable plane (UBP) display technology, a precursor to the flexible display. UBP will most likely be applied for the next product released after Galaxy Note 2,"
an official allegedly familiar with Samsung's product development concluded.
source:
MK
via
Phandroid