Samsung Galaxy F rumored to launch in September as it takes on the Apple iPhone 6
69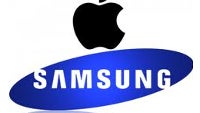 We already
have leaked images
of the
Samsung Galaxy F
. This is the "premium" version of the
Samsung Galaxy S5
that is expected to feature a 1440 x 2560 QHD screen, a metal body, the Snapdragon 805, and 3GB of RAM. In other words, this is the phone that many thought that the Galaxy S5 was going to be in the first place.
Now, with a phone superior to the Samsung Galaxy S5 being prepped, the manufacturer is looking at a September release for the Galaxy F. The number one reason to wait is so that Sammy can have an answer for the
Apple iPhone 6
. No question that the first iPhone to feature a screen larger than 4 inches is going to see plenty of demand. Normally, Samsung might have had to shoot back with the
Samsung Galaxy Note 4
, but that might be reserved to use as ammunition against the rumored 5.5 inch Apple iPhone phablet.
A recent survey conducted by RBC Capital Markets stated that based on a survey,
35% of those who normally wouldn't buy an iPhone, said they would purchase one if it had a larger form factor
. If indeed the tech titan decides to wait until September to launch the Galaxy F, the next big question is whether Samsung goes on the offense and releases the Samsung Galaxy F before the iPhone 6, or waits for Apple to launch its device first.
The second reason to wait until September, is to put as much distance between the launch of the Samsung Galaxy S5 and the Samsung Galaxy F as possible. This might allow some of those who purchased the Galaxy S5, some time to simmer down a little. But the truth is, no matter when Samsung releases the Galaxy F, there will be a contingent of vocal Galaxy S5 buyers who will feel that they were cheated, thinking that they were buying Samsung's highest spec'd flagship phone (note how we didn't say phablet) for the year, only to find out that a better model was just right around the corner.
source:
AppleInsider