Samsung Fingers with flexible display - Samsung's April Fools' joke
17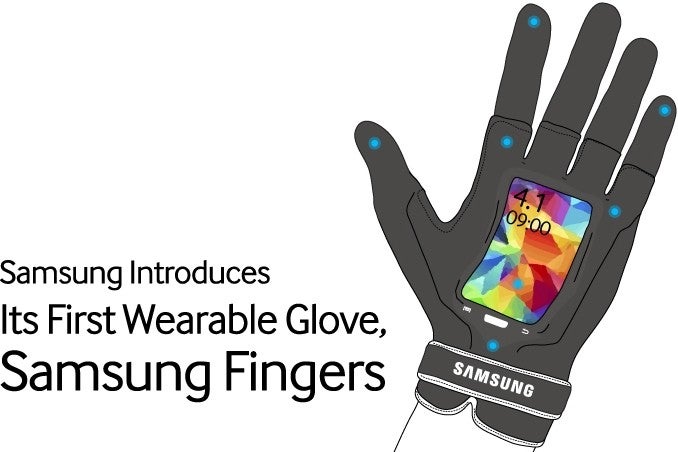 It's April Fools' Day already in South Korea, and Samsung is trying to prank fans with the announcement of Samsung Fingers. In Samsung's own words, this is the company's "first wearable glove" (not that we've seen any glove that is not wearable), and it packs a whole lot of high-end technology.
There's a 3-inch "flexible UHD Super Emo-LED" display at the center of Samsung Fingers, and an S Laser beam projector just below it. We're also treated with a 16MP hidden camera, built-in speaker and microphone, 4GB of RAM, 32G/64GB of internal memory, plus a wide variety of sensors - including a thermometer, compass, barometer, and a heart rate sensor. 5G and Wi-Fi 902.11wz will make sure to keep Fingers always connected.
Extra features include Talk To The Hand (you can let other people talk to Samsung Fingers while you're busy, and it will record every word), S Charge (it charges the glove with solar power), and Voice AMP (this literally amplifies your voice and "reduces fatigue from trying to get attention").
This
smartglove
comes in a few variations, including Samsung Fingers Tough, and a more delicate Samsung Fingers Class.
Of course, Samsung does mention at the end of the post presenting Fingers that this is nothing more than an April Fools' joke. Even so, if we're thinking about it, a glove similar to this
could
exist in the future. Or maybe not?
source:
Samsung Tomorrow